This post contains affiliate links.
This article pits Romania vs. Bulgaria in the ultimate showdown.
It's definitely not easy to choose between Romania or Bulgaria and that's probably what led you here!
Whether you're a long term traveler looking to settle down for a few months or planning a few days of your next vacation, you can'g go wrong with either Bulgaria or Romania… but which one is really better?
As a digital nomad I travel pretty slow, so I spent five weeks in Sibiu, Romania and seven weeks in Sofia, Bulgaria. Now, my comparison of Bulgaria vs. Romania will breakdown:
Tourist Attractions
Ease of Tourism
Nature and Hiking
Day to Day Life
Food
Infrastructure
and Nightlife
And don't worry, I won't waste your time with some feel-good ending. There really is a winner at the bottom, so keep reading to find out which country comes out on top.
Every fairytale I read as a child came to life in Sibiu, Romania
Tourist Attractions
We're all tourists when we go abroad, and of course, no one wants to spend their hard earned vacation days somewhere that's no fun. Because of that, tourist attractions are at the top of my list whenever I write comparison articles.
In Romania, some of the top tourist attractions are…
European Region of Gastronomy in 2019
The Transfăgărășan Highway
The city of Sibiu itself. The houses have eyes, the cobblestone streets are just begging to be explored, and the colorful shops and storefronts are beyond charming.
The medieval towns and fortified churches of Transylvania
Bran Castle, better known as Dracula's Castle
ASTRA Museum, one of the the largest outdoor museums in Eastern Europe
the ancient Corvin Castle
The Salina Turda Salt Mine
Winter ski resorts
Nightlife and culture in Cluj-Napoca and Timisoara
Alexander Nevsky Cathedral, Sofia's main showpiece
So, what about Bulgaria? Some of the top tourist attractions in the country are…
The gorgeous Alexander Nevsky Church
The city of Plovdiv, which will be the European Capital of Culture in 2019
The abandoned Budluhza Communist Monument
The annual Rose Festival
The city of Ruse
The medieval fortress and cliffside town of Veliko Tarnovo
Mountain resorts like Bansko
Musala, the highest mountain in the Balkans
Bars, restaurants, and nightlife on Vitosha Boulevard
The beautiful beachside towns like Sozopol on the Black Sea
Hiking on Vitosha Mountain or at the 7 Rila Lakes
This one is honestly a close call.
However, I felt like there was more to choose from during our seven weeks in Sofia than I had in Sibiiu and at the end of the day, Bulgaria comes out ahead.
Romania vs. Bulgaria Tourist Attractions Winner: Bulgaria
Sozopol, an insanely idyllic hidden gem on Bulgaria's Black Sea
Ease of Tourism
So, each city has good attractions to visit, but if you can't reach them without a car they might as well not exist. Travelers need busses and trains to get around and I think in this department Bulgaria is better.
Why?
When we wanted to take trips, it was easier to find bus schedules online while in Bulgaria, and even possible to purchase tickets online. On top of that, Sofia has a massive bus terminal with international buses linking almost everywhere in Europe.
You may be thinking I can't compare Sibiu and Sofia, and I'm not.
I also traveled in Bucharest and the international bus station was way smaller, had way less options, we were unable to buy tickets ahead of time for our trip between Bucharest and Sofia despite being at the station in person the day before.
Plus, what really seals the deal is that while neither country has Uber, Sofia has an app called TaxiMe that works the same way, so you can confidently call rides without getting ripped off.
Taxis are basically the bane of my existence, so this is enough to put Bulgaria over the edge in this round. It really is the little things.
Romania vs. Bulgaria Ease of Tourism Winner: Bulgaria
Hiking at the Seven Rila Lakes, a pretty route about 1.5 hours from Sofia, Bulgaria
Nature and Hiking
I love to hike and write about it regularly here on Slight North.
In Romania, there's not much hiking to be had. Bucharest is surrounded by flat land, and from our base in Sibiu there was the Paltinis Ski Resort, Balea Lake, and not much else.
The town of Brasov has a bit more because they have more ski resorts and mountainous terrain but there aren't really any famous/must-see hiking routes anywhere in the country. They're also not easy to reach by public transport.
Bulgaria is better for hikers and nature lovers.
Hiking on Vitosha Mountain is really easy to reach from Sofia and just requires a short taxi ride and a cable car. The mountain has multiple different routes and during our seven week stay we went up twice for two totally different experiences.
Additionally, the Rhodope Mountains and Valley of the Thracian Rulers lie within easy access of Plovdiv and a day trip to the Seven Rila Lakes is exceptional.
Beyond that, Bulgaria also has the Belogradchik Rocks, Musala (the highest mountain in the Balkans), and much more to discover.
This round is a no-brainer.
Romania vs. Bulgaria Nature and Hiking Winner: Bulgaria
Want more of the outdoors? Join our new Sustainable Hiking Collective on Facebook to connect with the international hiking community, discover new destinations, join virtual trail cleanups, and take part in monthly sustainability challenges.
Adorable pupperoni waiting patiently for his forever home at Animal Rescue Sofia
Day to Day Life: Is it better to live in Bulgaria or Romania?
If you work on the road as a digital nomad, there are more concerns you may have that don't crop up in vacation planning.
What's it like to live the day-to-day boring routine in Romania and Bulgaria? Well, the cost of living in both countries is pretty much the same.
But one major reason to choose Romania over Bulgaria is because they have faster internet. Like, way faster. Like, the 6th fastest in the world.
It was such a great change of pace to live even for a little bit with speeds of over 100 mbs in my daily life and I miss it regularly. (If you're thinking of living and working remote in Romania, read my complete review of Romania as a digital nomad destination.)
However, Bulgaria has more strengths as a whole.
First, they have better grocery stores. Billa in Bulgaria is a much better grocery chain than Carrefour and Kaufland in Romania.
Second, the social scene in Bulgaria was better too.
Start-ups and the tech industry are growing which meant a lot of cool meetups, talks, and events in the city in this niche. There is also a thriving travel blogging community that I was welcomed into during our stay.
Life was easy with these resources for digital nomads in Sofia and I felt at home. All in all, getting connected in real life and being social is easier in Bulgaria, and this is one thing that's essential to staying sane as a digital nomad.
Outside of this, we had opportunities to volunteer at a dog shelter in Romania and walk the dogs at a shelter in Sofia.
We never had major traffic issues and I found both Romanians and Bulgarians to be exceptionally quiet people. Life is peaceful in both places but Bulgaria comes out ahead.
Romania vs. Bulgaria Day to Day Life Winner: Bulgaria
Hot tip: traveling as a vegetarian in Romania or Bulgaria isn't going to be super fun. Both cuisines are meat heavy.
Food
Now for one of my favorite categories in this Bulgaria vs. Romania showdown: food.
I had some good eats in both countries but I lean towards Romania for this one and I'll tell you why.
I had just as many good food experiences in the small town of Sibiu as I did in the capital city of Sofia. That ratio shouldn't work out like that, but it does.
I read reviews and do my research, but still had way too many below average meals and disappointing experiences in Bulgaria.
I'm not sure what it is, but almost every pizza I ate in Sofia was terrible. Of course, I had some delicious meals in Sofia too but Sibiu just shouldn't be on equal footing with a capital city.
Finally, Sibiu is also named a European Region of Gastronomy in 2019 so I think the EU speaks for all of us when it comes to this decision.
Romania vs. Bulgaria Food Winner: Romania
Corvin Castle in Transylvania
Infrastructure
This one, I can't really speak too much on because I stayed in a town of 100,000 people in Romania and a capital city of over one million people in Bulgaria. So, the comparison may not be too accurate.
Still, though, I think this round is a tie.
There isn't too much of a difference that I noticed when it comes to infrastructure in either city.
Luckily, I never had to test out the hospitals or health care in Romania and Bulgaria, both have modern malls, a pretty good road system (from what I saw from the bus window at least) and no major discernible differences between them.
Romania vs. Bulgaria Infrastructure Winner: Tie
Hop Hooligans, a Romanian beer brand, is probably the best craft beer I've had outside of the US
Nightlife
If you're huge into partying, neither Romania or Bulgaria is going to be a great destination for you (consider Belgrade or Berlin instead).
Sibiu is one of the sleepiest towns I've ever lived in and everyone was pretty much back in bed by midnight. Some clubs did go later but it's really not a nightlife destination.
In Bucharest the small nightlife area was disappointing and a little sketchy… Daniel even got pick pocketed here.
However, I know that Cluj-Napoca and Timisoara, two larger cities in Transylvania, are supposed to have some of the best nightlife in the country. I couldn't visit them, but if bars, clubs, and music are important to you these should be the destinations you look at in Romania.
Unfortunately, Bulgaria isn't much better.
Sofia does boast the best shisha I've ever smoked (and I lived in the Middle East for two years) but between Sofia, Plovdiv, Veliko Tarnovo, and the Black Sea none of the places I visited had anything particularly memorable when it comes to nightlife.
Bulgaria does have a great craft beer scene though, and you can see my complete guide to craft beer in Sofia here.
But then again, Hop Hooligans, a Romanian craft beer brand, brewed some incredibly unique beers that could hold their own against any in the US.
This round is tough.
I didn't visit Cluj or Timisoara but have heard about their nightlife a lot. Because nowhere else I went in either country was anything special, I'll take the internets' word for it and say Romania is the winner of this round based on these two destinations.
Romania vs. Bulgaria Nightlife Winner: Romania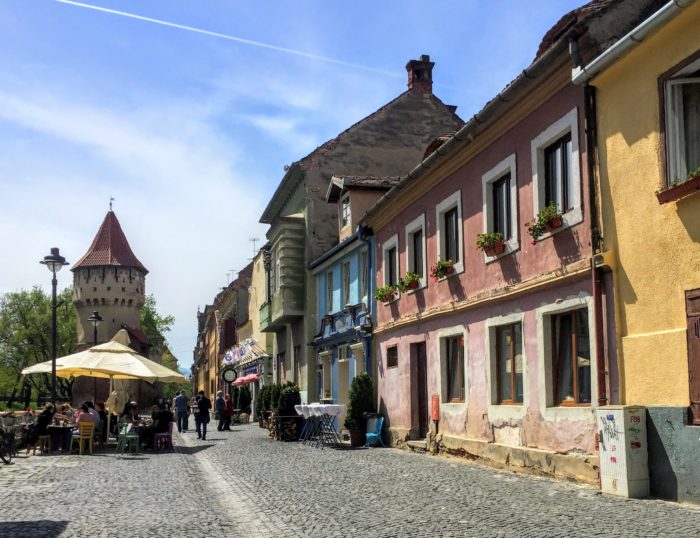 The colorful streets of Sibiu, Romania are otherwordly… but how does travel in Romania as a whole stack up against Bulgaria?
And the Romania vs. Bulgaria Travel Winner is…
Bulgaria in a sweeping 4 to 2 victory.
Honestly, you can disregard everything I've said and choose either Romania or Bulgaria and have a fab time exploring a new country because I really did enjoy my time in each.
I'm just saying I enjoyed my time in Bulgaria more 😉
It all depends on what you're looking for and this Bulgaria vs. Romania showdown simply aims to show the main differences and best features of the two.
If you like fast internet, good food, and cultural events, head to Transylvania to stay in Cluj, Timisoara, or Sibiu. Additionally, if you love picturesque towns, history, and photography this country is the one for you.
On the other hand, if you prefer big-city life with easier transportation and lots of hiking opportunities, Bulgaria is better. If you want to live on a beach, the cities along Bulgaria's coast will be a great fit and are better than the coastal towns in Romania.
Besides vacation, is it better to live in Bulgaria or Romania?
As a whole, for long-term living I found Sofia to be a great base with lots of social opportunities and many cheap flights and quick bus rides to nearby international destinations. Because of that, Bulgaria ultimately comes out on top for digital nomads.
Whatever you're looking for, I hope this showdown has given you a bit more insight into what each country has to offer and helps you decide between Romania and Bulgaria for you next trip!
Ready to go?
Explore unique stays on Airbnb – like this traditional neolithic village or this cozy tipi – and the top hotels on Booking.com to plan your trip to Bulgaria.
Then, check out more food, cultural, and outdoors experiences on Airbnb to round out your Bulgarian itinerary! (Or, book a multi-day Eastern Europe tour with Intrepid to finish you travel planning in one click!).
This article is part of the Eastern Europe Smackdown Series. Read the rest below:
Or, explore more around the world in the Country Comparison series!
Like it? Pin it!
Did you know every time you read an article on Slight North, you're also planting trees in the Andes? Start here to learn more about our mission and how to get the most out of the site!