This post contains affiliate links.
Have you ever dreamed of floating down canals built by the ancient Aztecs?
What about getting day drunk on the water under the sun?
Combine the two experiences and you've got yourself a day out in Xochimilco.
These canals in southern Mexico City were once used for transport because the Aztec capital of Tenochtitlan was built on a lake. Now, Mexico City is built on top of Tenochititlan on top of that lake and a few of the canals still remain.
They're no longer used for serious transport but they're full of traditional trajinera boats – your whimsical ride to a day full of fun. If you're ready to go, this Xochimilco guide will cover:
How to get to Xochimilco

How much do the Xochimilco boats cost?

How much does a day trip to Xochimilco cost?

How to rent a boat at the Xochimilco canals

The best time to visit Xochimilco (and when to avoid it)

What to do in Xochimilco

Food and alcohol at Xochimilco
What to pack for a day trip to Xochimilco

Xochimilco travel tips

And so much more!
If eating, drinking, dancing, and listening to live mariachi bands on the water sounds like your idea of a perfect weekend afternoon, this Xochimilco guide has absolutely everything you need to know to make it happen!
How to Get to Xochimilco
Surprise, surprise, the Xochimilco canals are located in the Xochimilco neighborhood.
It's in southern Mexico City about 45 minutes to an hour by Uber from the popular tourist neighborhoods of Roma, Condesa, and Centro Historico.
You can take the metro there – just plug the destination into Google maps and it'll give you a step by step guide to get to Xochimilco by public transport – but I don't recommend it because it'll take over an hour.
Hop in an Uber instead and save your valuable time!
In Mexico City Uber is still really affordable and the trip from Condesa to the Xochimilco canals on a Saturday morning only cost us 226 mxn / 11.50 usd. It took about 45 minutes and we chose to get dropped at the Embarcadeo Nuevo Nativitas.
There are many different embarcaderos (docks) so you might not know which one is the best to go to, but Nuevo Nativitas is widely regarded by my Mexican friends as the best and busiest in Xochimilco.
If you don't want to do it on your own, you can book guided group tours to Xochimilco on Airbnb to go with a group instead!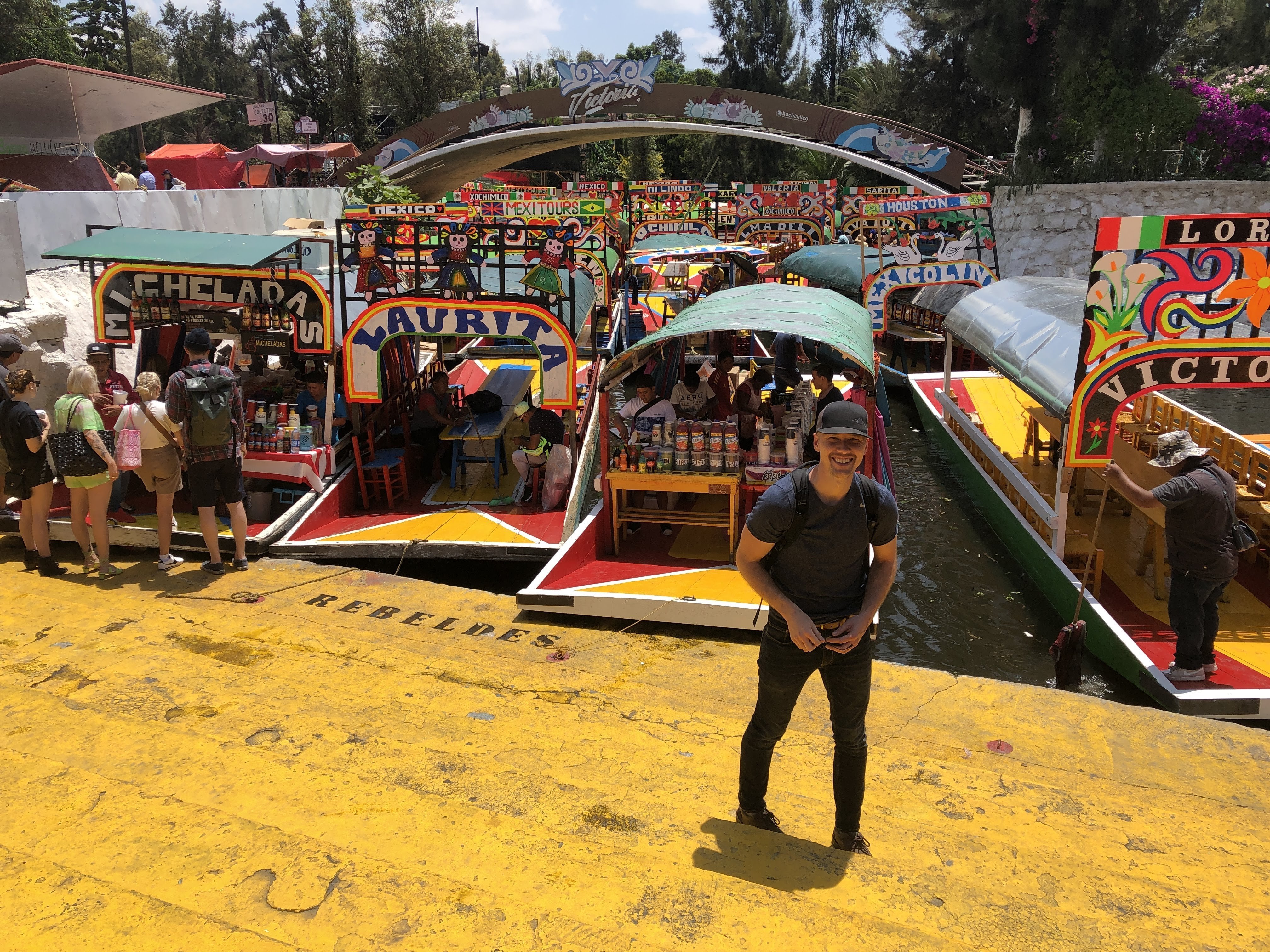 Dan ready to board the boats at Embarcadero Nuevo Nativitas… but which one is ours?!
How much do the Xochimilco boats cost?
Well, that depends on your bargaining skills, but the price in 2019 is around 400 to 500 mxn / 20 to 25 usd per hour.
We were with a group of locals so we were able to snag a boat at the 400 mxn rate, but paying a little more isn't really that big of a deal. Just know that 500 is the ceiling and if the captain starts throwing out crazy numbers like 600 or 700 pesos per hour you should walk away and find another.
So, what's included with a Xochimilco boat rental?
Again, you'll have to ask your specific captain when you're bargaining but it should come with room for about 20 people (remember, you're paying per hour and not per person, so the more friends you can gather up the cheaper the ride will be) and include a cooler for your beer (more on that later) and a speaker for music.
Remember the boats – and almost everything else you may want at the canals – is cash only!
You can't see it, but this is the start of en epic sunburn on my back. Sorry, mom.
How much does a day trip to Xochimilco cost?
I'll break down my personal expenses on the trip to give you an idea of what to budget for your day trip to Xochimilco.
Uber from Condesa to Xochimilco – 225 pesos, shared with Dan
Four-hour boat ride with seven people – 228 pesos per person
Two songs from a mariachi band – 21 pesos per person
A 12-pack of beer – about 120 pesos, shared with Dan
Limes, chips, sandwiches, ice – about 150 pesos for two
Uber Xochimilco to Condesa (with evening traffic) – about 300 pesos, shared with Dan
So, in total, Dan and I paid about 1,293 mxn / 65 usd for a Xochimilco day trip for two, so this isn't a budget-friendly outing in Mexico City.
This Xochimilco budget is also a pretty rough estimate and the numbers will change a lot based on how many people you share the Uber with, where you're coming from, how many share the boat, and more. Going with a guided tour is a little pricier than creating your own group, but would probably come out to about the same price you're planning to just go on your own or as a couple.
Do you need to tip at Xochimilco?
I was with locals and they said it wasn't common to tip, so we didn't. However, the boats have signs asking for tips and if it had been just me and Dan, we probably would have tipped 100 or 200 pesos… this one is up to you.
How to Get a Boat at Xochimilco
As you can see from the photos, there's no shortage of boat rentals available at Xochimilco. I don't think it's possible for the boats to fill up completely.
So, go to Embarcadero Nuevo Nativitas and walk through the main gates (they're impossible to miss) and up to the water where you'll see 50 million boats lined up and captains will start asking if you want a ride.
Obviously, the answer is yes.
Negotiate the length of your ride with your captain (I recommend three or four hours) and negotiate the price. It typically won't go down if you get a longer ride, but you can always ask.
I recommend having your ice, beer, and food ready to go before you find your ride so you can just follow the captain and jump on board. If you have to leave to buy everything, it'll be hard to find them again in the crowded maze of colorful boats and people.
Day drinking with a couple thousand of of my closest friends
When is the best time to go to Xochimilco?
This depends on what kind of experience you're interested in.
The mornings are quiet and the docks and canals don't get busy until around 11 or 12 pm. If you show up before then it may be more difficult to hail a ride but quite peaceful on the uncrowded waters.
Later in the afternoon around 12 or 1 pm, the vibe is lively and fun.
If you've ever gone day drinking with friends or family before you know it's very different than drinking at night.
The sun is shining, everyone is drinking beer and tequila, people are eating and dancing, and it's just really, really, nice. It's a super cheerful atmosphere that I enjoyed despite the painful sunburn I earned.
In the evenings the Xochimilco canals turn into a discoteca (that's a night club for all you gringos out there). It has much more of a party/club vibe and is much less family-friendly.
If you're going with kids or your family and don't plan to drink a lot or don't want to be around people drinking a lot, it's better to time your trip in the late morning or early afternoon. I also recommend going during the day because the colorful boats and pretty canals and overhanging trees are all more beautiful and photogenic in the sunlight.
What's the best day to visit Xochimilco?
The weekends, for sure.
Saturday is super lively and based on past experiences in Mexico I can only assume that Sunday is twice as crowded. If you go on a weekday all the locals and expats in the city are working, so it'll only be you and a few other straggling tourists.
Unlike pretty much every other tourist attraction in the country, this one is much better on Saturday or Sunday than it is during the week.
If you have enough beer your boat will magically become a salsa club as well.
6 Things to do in Xochimilco
There's a lot to do on the canals, but these six things to do in Xochimilco are the most popular and the most enjoyable!
1. Drink.
There's a store across the parking lot that sells beer, liquor, soda, ice, and snacks. Stock up here.
2. Eat.
People sell food on the water but I recommend packing your lunch and snacks to save money and also because water tacos just aren't appetizing to me.
3. Dance.
Don't forget to prepare some playlists on your phone because data and cell service is spotty on the Xochimilco canals. Mariachi bands roam the canals in their own boats and you can invite them on board to play a song or two. We payed 150 mxn / 7.50 usd for two songs.
4. Shop.
Wait, what? Vendors will come by your boat with souvenirs and popular flower headbands. There are also lots of greenhouses along the water where you can buy some plants because, why not?
5. Visit the Island of the Dolls.
This island requires a four-hour round trip but comes with its own handful of problems.
Basically, other blog posts have talked about getting ripped off when they tried to visit or even being taken to a fake Island of the Dolls instead of the real thing. It's also not always accessible from every embarcadero because the connecting platforms between the canals seem to break somewhat often.
We passed the fake one on our journey and that was good enough for me. If you're dead set on seeing the real Island of the Dolls keep in mind you'll have to pay an entrance fee to see it on top of the price of your boat trip.
6. Enjoy the sun and companionship of others.
Pretty straight forward, huh?
No cell service means you can't check your email or social media if you wanted to so you have to relax, unwind, and get away from it all whether you want to or not 😉
The mariachi band was definitely a highlight of the trip and I recommend buying one or two songs just for the experience
Can I buy food and alcohol at Xochimilco?
Yes, there are a bunch of restaurants near the docks and markets selling snacks, alcohol, and ice.
I recommend buying it in Mexico City because you'll have a better selection but mostly because you can just hop out of your Uber and onto a boat without adding extra steps to your to-do list before setting sail.
But if this is a spur the moment thing, then yes, rest assured that you can buy food and alcohol at Xochimilco for your boat trip.
Even after you board your boat, vendors selling michelada beers and tacos and anything else you could want will pass by on the water and stop to sell you anything your heart might fancy.
What to Pack for Xochimilco
You could show up in Xochimilco barefoot and empty-handed and still have a good time, but why not go prepared with this handy Xochimilco day trip packing list?
Beer and sliced limes

Chips, peanuts, or popcorn (or all three) to snack on

Downloaded playlists on your phone

A sandwich or something else to eat for lunch and soak up the alcohol

Cash

Sunglasses

Sunscreen (the boats are covered, but the sun will still come in the sides)

Water!
I'm a stock photo! Pin me!
Extra Xochimilco Travel Tips
I touched on some of these above but I just want to reiterate some Xochimilco travel tips that'll make sure your trip goes extra smooth.
There are no bathrooms on the boats, and with plans to drink a lot of light beer, this can be a concern.
Enterprising locals have made a business of this oversight and there are houses and shops all along the canals with bathrooms that cost five or six pesos to use, so all you have to do when you need to pee is ask your captain to make a quick stop.
You can go to the Xochimilco canals with your significant other but I highly recommend going with a large group.
Dan and I travel alone but I organized our outing through the Spanglish Meetup group I'm a part of (if you're going to be in the city for awhile, I highly recommend joining it). If you're traveling alone or as a couple, I recommend joining a group tour to Xochimilco instead of going on your own.
The more the merrier has never been truer when it comes to day drinking on the boats in the Xochimilco canals, so I recommend cobbling a group together through Facebook groups, Reddit threads, meetup, or even joining a tour as a last resort. Plus, the more people you convince to go the cheaper the outing will be for you.
These boats are cash only, so please don't. forget. to. bring. cash!
Plus, you can always add more time on to your boat ride at the end so you don't need to decide exactly how much you want at the beginning. If you're on the fence between two or three or four hours, go out for a few and ask your captain for more if you're not done with the experience quite yet when you return to the docks.
Ready to go?
Explore unique stays on Airbnb – like these light-filled lofts in Roma and Condesa, my favorite neighborhoods in Mexico City – or the top-rated hotels on Booking.com for a perfect night, weekend, or long-term stay in the city.
Then, browse more food, nature, and cultural experiences on Airbnb to round out your itinerary. Or, book a multi-day Mexico tour with Intrepid to finish your travel planning in one click!
This article is part of the Miscellaneous Mexico City series. Read the rest below:
How to See the Monarch Butterfly Migration in Mexico
12 Things to do in Mexico City at Night (On Any Budget)
29 Best Instagram Spots Around Mexico City + Map
How to Visit the Strange and Splendid Toy Museum in Mexico City
How to Take a Weekend Escape to Taxco, Mexico
Or, check out the complete Mexico Series for 40+ more articles on what to see, eat, drink, do, and discover in the country.
Did you know every time you read an article on Slight North, you're also planting trees in the Andes? Start here to learn more about our mission and how to get the most out of the site!