This post contains affiliate links.
So, you're planning a trip to the Balkans and trying to decide between Albania and Macedonia. I visited them both on a two week trip and know that both countries have their pros and cons.
As a whole, though, I enjoyed my time in one just a bit more than the other. However, everyone's travel style is different so I wrote a complete breakdown of Albania vs. Macedonia so you can get the full comparison and make the best decision for you!
Ready to begin? Let's get this showdown started!
Capital Cities
Chances are, you'll be flying or bussing into the capital city of either country that you visit. So, which one is better?
I spent 24 hours in Skopje and the same in Tirana and I have to say I strongly preferred Tirana. The city was cool, vibrant, artsy and has great nightlife. On the other hand, I found Skopje to be the strangest city in the Balkans. The architecture, layout, and overall vibe is hard to explain but it just didn't feel as cohesive and alive as Tirana was.
Tirana also has better restaurants and we had great sushi and bagel sandwiches in the city, while nothing we ate in Skopje was memorable.
Albania vs. Macedonia Capital Cities Winner: Albania
Food
Next up is the food. While Skopje left me a bit disappointed the food in Lake Ohrid in Macedonia was phenomenal. Usually cities built for tourists are overpriced and the food is sub-par, but here that's definitely not the case.
In Albania, the food was also great. I've already sung Tirana's praises and Theth National Park was the same. We spent three days in an amazing homestay eating farm-fresh meals cooked with love by the family who owned it. Everything was so delicious I even made a photo diary of our food in Albania.
In this round, Albania squeaks out a win simply because Tirana is better than Skopje. Everywhere else I visited in both countries had a strong food game to enjoy.
Albania vs. Macedonia Food Winner: Albania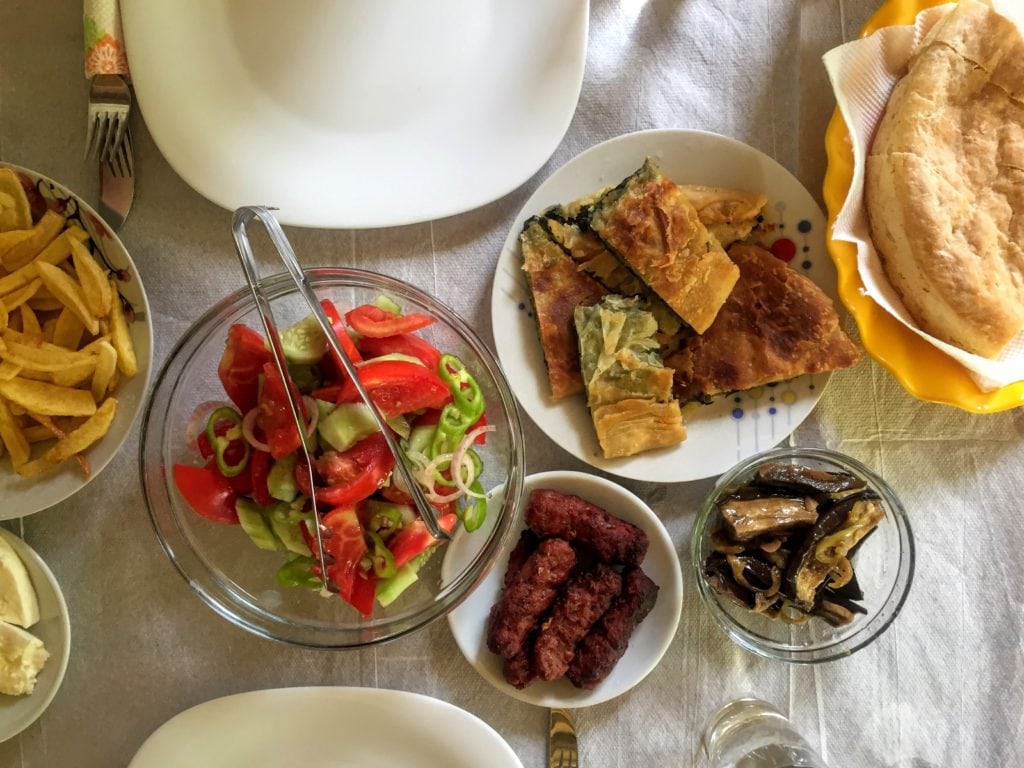 Nature and Hiking
In Macedonia we visited Lake Ohrid. The freshwater lake is a UNESCO Natural World Heritage Site and it was stunning. We had an awesome time relaxing on the water over the 4th of July and enjoying the views.
In Albania we also got into nature, this time at Theth National Park in the Accursed Mountains.
Just, wow.
Without a doubt Theth is one of the most beautiful places I've ever been in my life. Only one dirt road leads into the park and it's an amazing place to really escape from it all and connect with nature. If you've ever wondered what hiking in Albania is like, these 11 photos will give you an idea of what's in store. 
We hung out on the water in Macedonia but there are also three National Parks in the country (that we didn't visit) that you can check out. In Albania, we focused on the hiking but the country also has a long and beautiful coastline as well.
If you want to relax on the water, Lake Ohrid in Macedonia is spectacular. If you want to hike, Theth National Park in Albania is a must. If I had to choose between the two, though, I would pick Theth National Park every time.
Albania vs. Macedonia Nature and Hiking: Albania
Ease of Transportation
During our trip through Albania and Macedonia I found my self on a lot of busses. Honestly, this round is a tie. Whichever country you visit be prepared to be patient with the transport system and whatever Google Maps estimates the trip will take, expect it to be twice as long.
Albania vs. Macedonia Ease of Transportation Winner: Tie
Travel Costs
Overall the cost to travel in both Albania and Macedonia is quite cheap compared to Western Europe.
To give you an idea of our expenses, our average cost for accommodation over 6 nights in Macedonia was $31.50. Our average cost for accommodation over 6 nights in Albania was $37 per night. Five of these included breakfast while none in Macedonia did so in my opinion the expenses are equal. Food costs varied but we almost never payed over $10 per person for a meal and most were closer to $5 or less.
Both countries are quite cheap and this round ends in a tie as well.
Albania vs. Macedonia Travel Costs: Tie 
Safety and Hospitality
We were honestly welcomed with open arms by everyone we interacted with in both countries. I found Albanians and Macedonians to be the friendliest people in the Balkans out of all seven countries that I stayed in here.
Hospitality aside, though, which country is safer?
I had no issue in either one but let's take a look at the statistics. Again, they are pretty similar. Both are labeled by the US Dept. of State as Level 1: Exercise Normal Precautions. However, Albania also is listed as a high-threat location for "crime directed at or affecting official U.S. government interests" while Macedonia is only medium. Additionally, according to stats on the Knoema website, in 2014 the homicide rate in Macedonia was 1.6 while in Albania it was 4.1.
Albania vs. Macedonia Safety and Hospitality Winner: Macedonia
And the Winner is…
Albania! Ignoring the ties, Albania beats Macedonia 3 to 1 in this showdown between the two Balkan countries.
I found the food in Albania to be just a bit better than Macedonia and our stay in Theth National Park was the absolute highlight of the trip. Tirana also beats out Skopje as far as capital cities are concerned so for me, this choice is a no-brainer. If you're trying to decide between Albania and Macedonia, my recommendation is Albania every time.
No mater what you choose though, I enjoyed our trip through both of these underrated countries and I'm sure you'll have an awesome time!
To plan your trip to Albania, compare flight prices on Skyscanner and book your stay on Booking.com.
PS if you want to see both countries, get started with my 11 day Albania and Macedonia itinerary. Or, explore more options in the Balkans with my complete showdown between Romania and Bulgaria!