This post contains affiliate links.
Theth, Albania is an underrated vacation destination. The people are kind, the cost of living is low, and they have some of the most beautiful hiking in the world!
I knew Theth National Park looked nice from the picture I saw online, but our time in the Albanian Alps blew me away. No photos or blog posts can capture the serenity and quiet connection with nature that I felt among the jagged peaks.
All I can do is try my best to convince you that Albania, and Theth National Park, shouldn't be missed. To help you visit, I created this in-depth Theth guide that covers:
How to get to Theth by Bus and by Boat
How to Get from Theth to Shkoder
How much it costs to visit Theth
Best things to do in Theth
How long to stay in Theth
Where to stay in Theth
Food in Theth
What to pack for a trip to Theth
When you can (and can't) visit Theth
Bonus: Theth, Albania travel tips + tidbits
And much more!
If you're thinking of visiting this remote mountain town (and I strongly recommend that you do) use this guide to discover where to hike, what to budget, and everything you need to know before you go.
Want more of the outdoors? Join our new Sustainable Hiking Collective on Facebook to connect with the international hiking community, discover new destinations, join virtual trail cleanups, and take part in monthly sustainability challenges.
Guesthouses in Theth, Albania
How to Get to Theth By Bus and By Boat
No Theth guide is complete without explaining how to get from Shkoder to Theth. Unlike most other vacation destinations, the way to get to Theth are kind of strange.
First things first, you must visit the city of Shkoder, Albania if you want to travel to Theth.
There is only only one road in and out Theth and it leaves from Shkoder. We stayed in Shkoder for two nights to explore the lakeside town, but you can take a bus from Tirana to Shkoder (two hours) and then hop on a minibus to Theth in the same day if you don't want to stay overnight.
Now, to get from Shkoder to Theth, there are two options.
Take a mini-bus or jeep ride to Theth, or take a ferry to the town of Valbona and walk eight hours through the pass from Valbona to Theth.
I opted for the minibus from Shkoder to Theth because I don't like boats and get a little seasick, and also because walking from Valbona to Theth presents its own problems, namely: what to do with our giant bags?
Some people carry them on the eight-hour walk, others leave them in Shkoder, and others hire a horse to pack them on for the trek.
All of that is too much for me, and we simply took the mini-bus to Theth and spent a day hiking from Theth to Valbona Peak and back. We got the exact same views with zero hassle, so it's a better choice in my opinion.
If you do decide on the minibus, ask your hostel owner in Shkoder to arrange the pick-up for you.
So, how long does it take to get from Shkoder to Theth?
That's honestly the luck of the draw. Our trip out was super slow with many stops and took us 4.5 hours. On the way back we did it in 2.5 hours.
So, cross your fingers for luck but don't plan on a quick trip!
Important to know: Don't try to drive into Theth on your own.
The last kilometers are on a poorly maintained dirt road (and curve along a cliffside) so this route is not for the faint of heart or a car that isn't designed for the challenge. Instead, pay 10 euros per person and grab a ride in the jeeps and minibuses who drive from Shkoder to Theth and from Theth to Shkoder every day.
How to Get From Theth to Shkoder
Whether you decide to take the bus from Shkoder to Theth or take the ferry from Shkoder to Valbona and hike to Theth, at the end of your trip you'll need to travel from Theth to Shkoder to get out of the park and continue your trip through Albania.
Luckily, it's easy to get from Theth to Shkoder!
Every guest house will be able to arrange a ride for your between the two destinations from a freind, family member, or acquaintance.
The ride costs 10 euros per person and will take around two to three hours depending on quite a wide variety of factors that you have no control over. Most of the trips leave in the morning but I'm sure if you were willing to pay a bit extra you could arrange an afternoon trip from Theth to Shkoder as well.
View of the valley on our drive into Theth National Park
How Much Does it Cost to Visit Theth?
If you're looking for a mountain vacation on a budget, Theth, Albania is the place.
So, how much does it cost to visit Theth? This budget breakdown lists all our expenses and will help you plan your budget for the trip:
How much do guesthouses cost in Theth National Park?
104 euros for 3 nights in a private room with breakfast
How much does food cost in Theth?
Lunch at the guest house was 6 euros per person and dinners were 7 euros per person. A packed sandwich for a hike was 3 euros per person and we had a few beers and glasses of wine for 1.5 euros each as well. In total, this cost 75 euros for two people.
We got coffee and fries at a cafe at the Blue Eye of Theth, and more coffee and pastries on the hike to Valbona peak. The total for all this was 16 euros.
How much does it cost to travel from Shkoder to Theth?
The minibus from Shkoder to Theth is 10 euros per person. We paid 40 euros for two round trips.
Total cost for a long weekend in Theth, Albania
Daniel and I spent three nights in Theth National Park and with our transport in and out, a private room in a guesthouse, all of our meals, and even a few drinks, we only spent 236 euros!
If you want to cut costs more, you can bring a tent and camp for only a few euros per night.
Important to note: Bring cash! I didn't specifically search for an ATM in Theth during our stay but I would be very surprised if there is one.
I knew I was about to be wowed when we stopped for this view on the drive into Theth!
Best Things to Do in Theth National Park
Obviously, the two most popular (ok, and only) activity in Theth is exploring the surrounding mountains and the hiking in Theth, Albania is second to none.
The two most popular hikes are the trek from Theth to Valbona Peak and to the hike to the Blue Eye of Theth, a pristine swimming hole in the mountains.
Lucky for you, I've got detailed guides to help you do each one!
The Blue Eye of Theth looks very inviting but don't let it fool you – the water is freezing!
Hike to the Blue Eye of Theth
The trek to the Blue Eye covers about 12 miles and takes about 6 hours.
We did this on our first full day in Theth and the view was really nice. I actually felt like the mountain and canyon views on the hike were better than the destination itself, but that's just me.
Also, the water is freezing so don't bother bringing a suit unless you're very brave.
Use this step-by-step guide to hike to the Blue Eye of Theth when you go!
Just one of the many insane views from Valbona Peak
Hike to Valbona Peak
The hike to Valbona Peak is about the same distance and duration as the Blue Eye trek but more difficult with a harder climb. However, I also found it to be more beautiful.
If you only have time for one trek, the climb from Theth to Valbona Peak is the best hiking in Theth and definitely should not be missed.
Use this step-by-step guide to hike to Valbona Peak when you go!
Totes lost on our trek to the Grunas Waterfall
Bonus: Hike to the Grunas Waterfall in Theth
Your third Theth hiking option is much shorter than these two and only takes a half-day. This is the hike to the Grunas Waterfall.
Follow the steps on the trek to the Blue Eye and you'll see the waterfall on the way, up on the side of the canyon wall. However, from there you need to climb up to it, and that's something we couldn't figure out how to do.
It was a still a nice walk, though, and a good view.
Sunset from our guesthouse – life really doesn't get any better than this
How long should I stay in Theth?
Between our three nights and two big hikes, I felt like this was the perfect amount of time in Theth. I wouldn't have wanted to stay longer or leave any earlier. Of course, it all depends on how you like to travel!
I love Theth because it's totally untouched.
There are no overpriced tours or paragliding companies or guided trips, just you and nature. It's the best place to relax and unwind with waterfalls, swimming holes, mountain peaks, and really slow wifi.
The stargazing in Theth is also beautiful. There's very little light pollution because the town is so remote, so make sure you take a few minutes to get outside your guesthouse and enjoy the heavenly view while you're there.
At night we would eat a late dinner and watch the sunset, read a book, go stargazing, and basically just forget that the outside world exists, which I personally think is healthy for everyone to do for a few days every year.

Theth chapel
Where to Stay in Theth
Next up on the Theth guide is where to stay.
There aren't too many options, so if you want a fancy hotel this is definitely not the place. The only two choices for accommodation in Theth are camping or a guesthouse.
I recommend Guesthouse Pasko because Vera, the owner, was incredibly kind and the location was great – right by the lovely and picturesque little church.
There were friendly cats, small pigs running around, and lots of happy kids playing outside. Plus, her cooking was phenomenal, especially the freshly baked bread. At the end of the stay, her husband gave us a ride back to Shkoder.
All in all, it was cozy, comfortable, and a really relaxing stay with a family that clearly cares about every guest that comes through their doors.
Ready to wake up to views like the one above? Click here to book your stay at Guesthouse Pashko!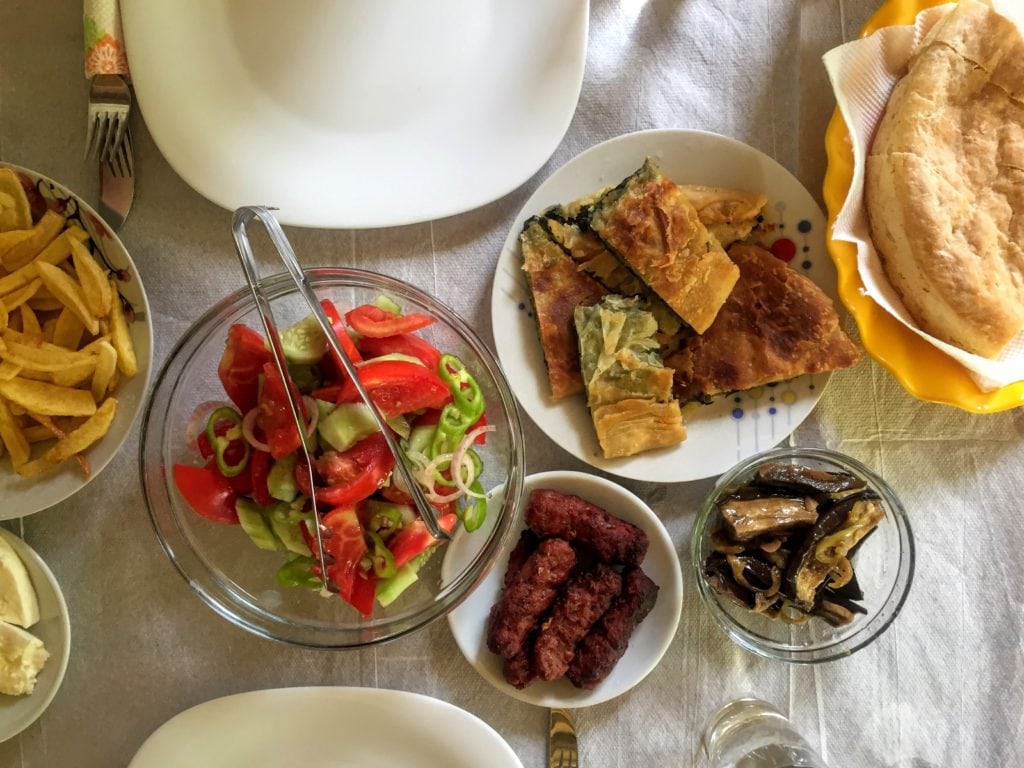 The mouthwateringly good meals served at Guesthouse Pashko
What's the Food Like in Theth?
I know this is kind of covered in the accommodation guide but I just wanted to dive a little deeper into the food you can expect while you're in Theth.
Our meals were super heavy. Breakfast was just like the storybooks I read growing up: bread, eggs, cheese, butter, and milk.
Lunch was usually sheep sausages, pickled veggies, fresh bread, tomato and pepper salad, an Albanian spinach and filo pastry called byrek, and fresh cheese.
Finally, dinner was lamb or pork, more bread, cheese, vegetable spread, soup or stuffed peppers, and french fries.
If you're curious, I wrote a separate post about our meals in Albania ('cause I love food) so you can learn more about what to try in Theth, Tirana, and Shkoder too.
Smiling at the last stop before our descent into Theth Valley!
What to Pack for a Trip to Theth, Albania
First, and most importantly, you need to pack snacks!
In town, there are guesthouses to cook your meals but only one small and poorly stocked market. If you want chocolate, peanuts, or anything else on your hikes you have to bring it in yourself.
After that, you absolutely can't forget a sturdy pair of hiking boots, a water bottle, and other hiking essentials. Make sure you don't forget sunscreen either!
Finally, remember to bring cash and a jacket for layering – Theth is much cooler than Tirana and Shkoder and even in July, the nights were chilly.
Check out some of my favorite hiking gear below and add it to your Amazon cart if you don't have it yet!
Image
Title
Prime
Buy
TimberlanD Women's White LeDge MiD Ankle Boot,Dark Brown,7.5 M US

Prime

Eligible

Buy Now
Vibrant All in ONE Travel Mug - Tea Infuser Bottle with 2 Piece Steeper Strainer MESH Filter - Insulated HOT Coffee Thermos - Cold Fruit Infused Water Leak Proof Double Wall Stainless Steel 16.9 oz

Prime

Eligible

Buy Now
Neutrogena Ultra Sheer Dry-Touch Water Resistant and Non-Greasy Sunscreen Lotion with Broad Spectrum SPF 100+, 3 fl. oz

Prime

Eligible

Buy Now
Osprey Packs Farpoint 55 Travel Backpack, Jasper Red, Small/Medium

Prime

Eligible

Buy Now
Prices and images pulled from the Amazon Product Advertising API on:
When You Can (and Can't) Visit Theth National Park
I said the road into Theth was bad, but the truth is it's so precarious that it's closed all winter long!
Almost every family leaves Theth and moves into Shkoder for a few months, so if hiking in this park is on your bucket list, make sure you visit in the summer months. I'm not sure when exactly the road closes but I wouldn't want to take any chances with early spring or late fall storms, and after you see the road you'll definitely agree.
If you're worried about totally melting on your hikes in the summer, don't fret.
We went in mid-July which is just about as hot as it gets (and I really don't like to be hot) and honestly it wasn't too bad. Just start your hikes early (8 am or even before) and drink lots of fresh spring water and you'll be fine.
More amazing views from Theth National Park
Bonus: Theth, Albania Travel Tips + Tidbits
Even though Theth is in the Albanian Alps, they're not actually part of the Alps Mountain Range. The range is named Prokletije but also referred to as the Accursed Mountains.
The spring water is so clean in Theth that it's drinkable. Fill your bottle in the river or any springs you see on your hikes and enjoy cold, fresh, water.
Theth is a stop on the 10-day Peaks of the Balkans Route. This hiking route goes through Montenegro, Kosovo, and Albania and is now definitely on my bucket list!
If this doesn't look like your idea of heaven, we probably can't be friends
If you're planning a trip to Albania, Theth is the gem of the country.
It isn't too well-known outside of it (yet), but I really think it will be soon as infrastructure improves and Albania gets closer to joining the EU.
Theth is one of the most beautiful places I've ever been to and I really can't recommend it enough for hikers, nature lovers, and off-the-beaten-path adventurers alike. If you find yourself in Eastern Europe, definitely don't miss it.
Ready to go?
Book your stay at Guesthouse Pashko for an unforgettable experience in Theth National Park or browse more Theth hotels and guesthouses here.
Then, join our new Sustainable Hiking Collective on Facebook to connect with the international hiking community, discover new destinations, join virtual trail cleanups, and take part in monthly sustainability challenges.
This article is part of the Alluring Albania series. Read the rest below:
How to Hike to the Blue Eye of Theth
How to Hike from Theth to Valbona Peak (and Back Again)
Is Tirana Worth Visiting? Thoughts on 24 Hours in the City
11-Day Albania and Macedonia Itinerary You Can Do Without a Car
Then, explore the complete Albania series for more tips on what to see, do, eat, drink, and discover in the country.
Like it? Pin it!
Did you know every time you read an article on Slight North, you're also planting trees in the Andes? Start here to learn more about our mission and how to get the most out of the site!