This post contains affiliate links.
I recently traveled through these two countries on my vacation and I had an amazing time.
However, the planning wasn't easy and even though there are a few blog posts out there most were taking their trip with a rental car. I had to do my own thing which required extra planning, but it all paid off and was more than worth it in the end.
Now, I'm happy to share my 11 day Albania and Macedonia itinerary with anyone else thinking about making the same journey.
If you want a Balkan vacation that includes lakes, hiking, and city life, this is definitely the place to start!
Want more of the outdoors? Join our new Sustainable Hiking Collective on Facebook to connect with the international hiking community, discover new destinations, join virtual trail cleanups, and take part in monthly sustainability challenges.
Use This Albania and Macedonia Itinerary to Travel Through The Countries Without a Car
First things first, where should you start?
I recommend starting your Albania and Macedonia Itinerary in Skopje because I did both and found that moving west through the countries rather than east was faster and easier.
Day 1: Skopje
I really recommend spending time in the capital of Macedonia.
Whenever your flight or bus gets in, plan to have about 24 hours and at least one night until you leave again. They have a tiny but cool craft beer scene and probably the strangest architecture I have ever seen.
When you go, use this guide for 24 hours in Skopje to discover the city before you leave!
Day 2: Lake Ohrid
On day two, wake up and take a 3-hour bus to Lake Ohrid. They leave all day long (see the timetable here) and tickets cost 520 denars / about 10 usd.
Lake Ohrid is one of the most beautiful places in Macedonia and an awesome place to relax on the water, day drink, and forget about the real word.
Spend the afternoon relaxing on the water and use this Lake Ohrid Guide to find accommodation, restaurant recommendations, and more.
Day 3: Lake Ohrid
Stay lazy, pony boy. Wake up, chill on the water, grab a few drinks, and explore the natural and cultural UNESCO sites here.
The best thing to do at Lake Ohrid is rent a sun bed at the Cuba Libre Beach Bar and catch some rays while you read.
Day 4: Lake Ohrid
On day four of the Macedonia and Albania itinerary you have two options.
You can do what you've been doing and just hang out on the water or you can take a boat tour to the St. Naum Monastery and freshwater springs, go paragliding, rent kayaks, and more.
Day 5: Tirana
Getting from Lake Ohrid to Tirana, the capital of Albania, is kind of a pain.
The easiest way to do it is with a direct transfer. We bought our tickets the day before from Kompas Tours in the center of Lake Ohrid. The cost was 750 denar / 14 usd and unfortunately it leaves every day at 4:30 am from the center square.
Just make sure you get there early because it came by, picked us up, and was off again by 4:27!
The trip took us 3.5 hours and we were in Tirana at 8 am.
If you don't want to go this route, you can also take the 9:30 am bus from Struga. This will require a $10 taxi to the Struga bus station and then a 5-hour ride. It all just depends on which timeline works better for you.
Once you get there, you'll see that Tirana is a pretty cool city. Spend the afternoon and the next day exploring Tirana with this guide to 24 hours in the city.
Day 6: Shkoder
Busses to Shkoder run every hour on the hour but not from the main Tirana bus station.
Use this Shkoder guide for exact directions on how to get the bus to Shkoder from Tirana and then make the 2-hour trip in the afternoon whenever you're done exploring the capital city.
Day 7: Shkoder
One full day and two nights in Shkoder is a good amount of time.
While we were there we rode our bikes along the lakeside, ate some surprisingly good meals, walked through the Old Town and had a few drinks while watching the World Cup. See my complete Shkoder guide for more details one what to do and see in the city!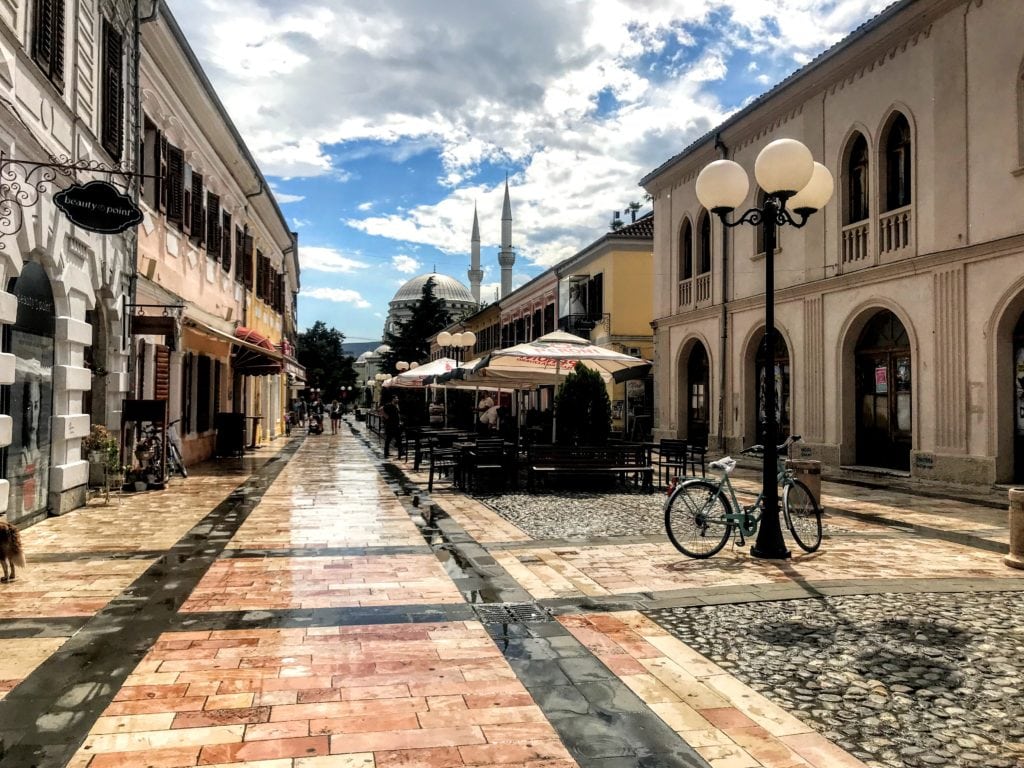 Day 8: Theth
If you want to visit Theth and go hiking in Albania's Accursed Mountains, you can only access it from Shkoder. To get to Theth you can take a jeep or minibus.
The best way to do this is have your hostel call and arrange a pick-up for you in the morning. The second best way is to walk to the tourism office in Shkoder (right by the pedestrian street) the night before you want to leave to get the details on the exact place where you can catch one instead.
The ride costs 1250 lek / 11.5 usd and can take anywhere between 2.5 and 4.5 hours depending on how many people you pick up, how many stops they make, and what type of vehicle you end up in.
Day 9: Theth
Theth is my favorite part of this whole Albania and Macedonia Itinerary and if you're into hiking and nature at all this destination shouldn't be missed.
On day nine, wake up in this stunningly beautiful mountain town and take a 12 mile hike to the Blue Eye of Theth.
Day 10: Theth
On day ten of your Albania and Macedonia itinerary it's time to hike to Valbona Peak, this is also about 12 miles but tougher than the trek to the Blue Eye because it requires more uphill hiking.
However, the views of the Albanian Alps are absolutely unbelievable and it's worth every hard earned step to get to the top.
Day 11: Finish Your Vacation
So our trip through Albania and Macedonia is coming to a close.
Luckily you have a few options on how to finish you vacation from Theth. In one day of traveling you can go back to Shkoder and then continue across the border to Montenegro for more travels, or you can go back to Tirana to catch a flight or bus to your next destination.
Plan Your Albania and Macedonia Vacation with thie Guide!
If you have more time to add to your Albania and Macedonia itinerary I would recommend a day or two more in Tirana because I really enjoyed the city, or adding a few days on Albania's coastline to explore the beaches.
Whatever you choose, you really can't go wrong with time spent relaxing among the beauty of Lake Ohrid, hiking in Theth, exploring the interesting capital cities of Skopje and Tirana, and spending time in Shkoder as well.
I hope this 11 day Albania and Macedonia itinerary can help you organize your travel plans a bit more and of course, I hope you have an amazing time on your trip through these two beautiful countries.
Ready to go?
Use Skyscanner to find the cheapest flights to Skopje and explore accommodation like unique stays on Airbnb or the top-rated hotels on Booking.com to plan the perfect trip through Macedonia and Albania!
Then, join our new Sustainable Hiking Collective on Facebook to connect with the international hiking community, discover new destinations, join virtual trail cleanups, and take part in monthly sustainability challenges.
This article is part of the Alluring Albania series. Read the rest below:
The Complete Guide to Theth and Albania's Accursed Mountains
How to Hike to the Blue Eye of Theth
How to Hike from Theth to Valbona Peak (and Back Again)
Is Tirana Worth Visiting? Thoughts on 24 Hours in the City
Interested in tackling this 11-day itinerary through the two countries? Find more travel tips for both destinations in the Albania Series and the Macedonia Series!
Did you know every time you read an article on Slight North, you're also planting trees in the Andes? Start here to learn more about our mission and how to get the most out of the site!