This post contains affiliate links.
I had zero expectations when it came to food in Albania, so I was pleasantly surprised on my trip.
Like most of the Balkans, the food in Albania is heavy. Meats, cheese, bread and soup dominate the cuisine and we got a good taste of it during our seven day trip through the country.
As with most places, the food in Albania varies a lot depending on where you are.
Our travels took us to the small town of Theth in the mountains, the medium-sized city of Shkoder on a lake, and the large capital city of Tirana. All three have their own personalities and their own foods to go along with them.
So, if you're curious about what you might be eating when you travel through Albania, these 10 pictures will give you a small taste of what's to come!
Restaurants & Dishes to Try at Shkoder Lake
Shkoder Lake was our first stop.
If you go to Theth National Park (which you should), you'll find yourself passing through Shkoder because it has the only road into Theth.
In Shkoder, the traditional dishes contain a lot of seafood and meats, but there's still a good amount of cafes and fusion restaurants as well.
Because this is a medium-sized city, I found the Albanian food in Shkoder had more variety than Theth but less than Tirana, which makes sense due to each one's size.
This was my favorite meal in Shkoder. Rent a bike to ride around the southern part of the lake and you can go all the way to the border of Montenegro.
Right before we arrived, we stopped at B7 Zogaj for lunch and a break. We enjoyed this light salad, fresh bread, seafood soup, and rice with vegetables while we cooled down and prepared for the ride home.
Another delicious find in Shkoder was at the Restaurant Elita.
It's a bit on the fancier side but, the cost of living is so low in Albania that many travelers and backpackers will still be able to afford it.
I had the beef cooked in a traditional way in the clay pot for 5 to 6 hours. It was tender, it was juicy, and it was a LOT of meat. I still enjoyed it though, and a 1/2 liter of wine, an appetizer, and two main dishes cost us about 2400 lek / 22 usd.
Our second and final dinner in Shkoder was at the amazing Hotel Tradita.
This is built into an old inn from the 1600's and dinner was served in the large courtyard. It was nice and peaceful, so I definitely recommend it.
These are Albanian stuffed potatoes with cheese and bacon, a recipe that comes from a nearby village.
We also had the homemade pasta with chicken, fish soup, traditional Albanian bread that was almost exactly like nan (and just as good) a honey dessert, homemade ice cream, and 2 liters of wine. This meal cost about 4,300 lek / 40 usd.
Traditional Albanian Food in Theth
Theth was the second stop on our trip through Albania.
This remote national park is nestled in the mountains and the small town is the perfect base for beautiful hikes through the Albanian Alps.
Here there are no markets or restaurants. Instead, everyone eats their meals at the guest house they're staying in. The meat we ate was raised on the farms, the vegetables were grown in the gardens, and everything was cooked with care.
If you want to try food in Albania that's truly traditional, the guest houses in Theth are the place to go. I stayed in Guesthouse Pashko and highly recommend it!
Breakfast was included, lunch cost 6 euros and dinner was only 7 euros.
Click here to book your stay in Guesthouse Pashko.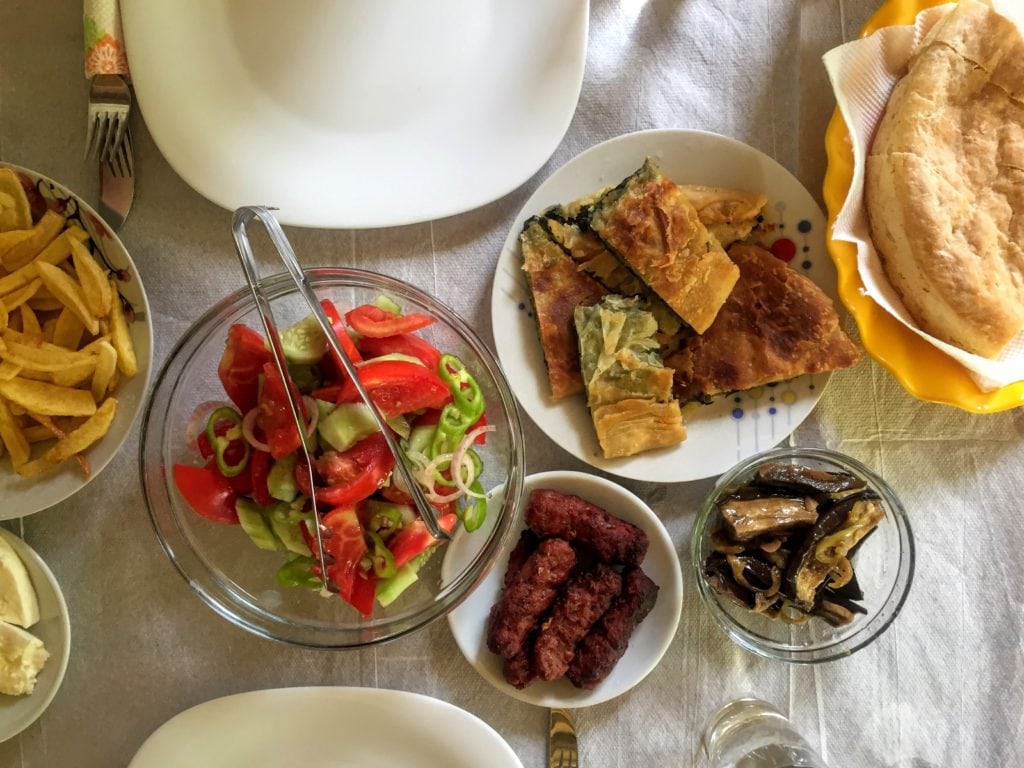 We enjoyed this amazing lunch our first day in Theth.
It includes pickled eggplant, french fries, fresh cheese, tomato and pepper salad, home-cooked bread, sheep sausages, and byrek, an Albanian pastry made with filo dough and filled with spinach.
Ok, this isn't a meal but how cute is this little tree-house cafe?
The hike to the Blue Eye is one of the main attractions in Theth and shouldn't be missed.
While you're there, relax with a drink being cooled in the stream (can you spot them in the photo?) and order a home-cooked meal from the guest house on the water.
Little tables are built all up the rock-face and into the surrounding trees for a totally unique dining experience in Albania.
Hey, it's me 🙂
Dinner on night number two in Theth included roasted lamb, noodle soup, a traditional pepper and vegetable spread called "ajvar," fresh olives, cantaloupe, and of course fresh baked bread to wash it all down.
These mini Nescafe coffees will become such a staple to your trip through the Balkans that I feel I have to include them.
This small cafe with a beautiful view isn't accessible by any roads. Instead, we trekked over 2 hours to reach it on our climb to Valbona Peak.
It's one of the most popular hikes in Theth and we stopped at the cafe for coffee and pastries with a view to refuel before the final push to the top.
Dinner on our last night in Theth may have been the best of the three. This traditional meal included stuffed peppers and fried pork along with the typical side dishes shown above.
So tasty.
International Cuisine in Tirana
Last but not least on our trip through Albania was 24 hours in Tirana.
The city really surprised me and I enjoyed our time there far more than I thought I would.
Because we had our fill of heavy Albanian cuisine in Theth, I was ready to explore the international food scene in Tirana. This city of over 1 million people definitely didn't leave me disappointed.
I spotted a sushi restaurant on our bus ride from Theth to Tirana and mentioned absently that it sounded good. Little did I know that Salt, a sushi restaurant in Tirana, is one of the best in the city!
It had a modern and chic atmosphere, creative cocktail options, and delicious food that was a bit expensive for the city but oh-so-welcome after three days in the mountains.
Is there anything better than waking up to fresh bagels?
The American in me firmly believes that there isn't.
So, when New York Bagels popped up on Google during my search for nearby breakfast restaurants, I was immediately convinced to go.
These bagel sandwiches are only 120 to 350 lek / 1 to 3.50 usd and so fresh and tasty. Saying that bagels in the Balkans are rare is an understatement, so if you're going to be traveling in the area for awhile definitely stop here to get your fill.
Enjoy These 10 Pictures of Food in Albania
So, what do you think about the food in Albania?
I was pleasantly surprised by how many great meals we had while traveling through the country. Our itinerary to Shkoder, Theth, and Tirana lent itself perfectly to a variety of meals from ultra-traditional and home-grown to international restaurants in the big city.
Hopefully, these pictures of our experience help you have a bit of a better idea on what to expect on your travels, and you enjoy the food on your trip just as much as I did!
Ready to go? Use Skyscanner to find the cheapest flights to Tirana and then explore accommodation like unique stays on Airbnb or the top-rated hotels on Booking.com to plan the perfect vacation through Albania.
Then, stick around to learn how to spend 24 hours in Tirana and explore the complete guides to Theth National Park and Shkoder Lake as well.
Did you know every time you read an article on Slight North, you're also planting trees in the Andes? Start here to learn more about our mission and how to get the most out of the site!