This post contains affiliate links.
If you're planning to go to Theth, you're probably going to put this Shkoder guide to good use. There is only one road to Theth in Albania and it leaves from Shkoder. So, you know you have to pass through, but is the city worth visiting?
You can take a 2-hour bus from Tirana to Shkoder and hop on a jeep or minibus to Theth in the same day, but Daniel and I decided to stick around Shkoder and spent 48 hours in the city before moving on.
I'm not going to lie, I preferred both Tirana and Theth to Shkoder. However, it is still a nice place for a day or two. If you're moving at a slower pace and want to see more that Albania has to offer, this city is definitely worth a stop.
Thinking about checking it out?
This Shkoder, Albania travel guide has everything you need to know to enjoy your time in the lakeside city!
Want more of the outdoors? Join our new Sustainable Hiking Collective on Facebook to connect with the international hiking community, discover new destinations, join virtual trail cleanups, and take part in monthly sustainability challenges.
How to Get to Shkoder
For some reason, the buses to Shkoder do not leave from the main bus station in Tirana.
So if you get dropped off there with lots of bags like we did, you'll be very annoyed when you discover this because the actual bus stop is about a 15-minute walk away.
There's a lot of conflicting info online about how to get to Shkoder from Tirana but this was my experience.
Basically, what you need to do is put the "Auto Manoku" shop into your GPS. Right in front of the shop and slightly to the right (if you're facing it) is a bus stop. Like, a classic glass covered bus stop with a bench. There's nothing special about it but this is where you can catch the bus to Shkoder.
The buses to Shkoder seem to run every hour on the hour, which means they will come by the stop about ten minutes into every hour.
We waved down the first minibus at 8:15 but it was full and passed us by. At 9:10 the next one to Shkoder came and it was a large air-conditioned tour bus. Nice. The cost is 300 lek / about 3 usd per person and the ride from Tirana to Shkoder is 2 hours.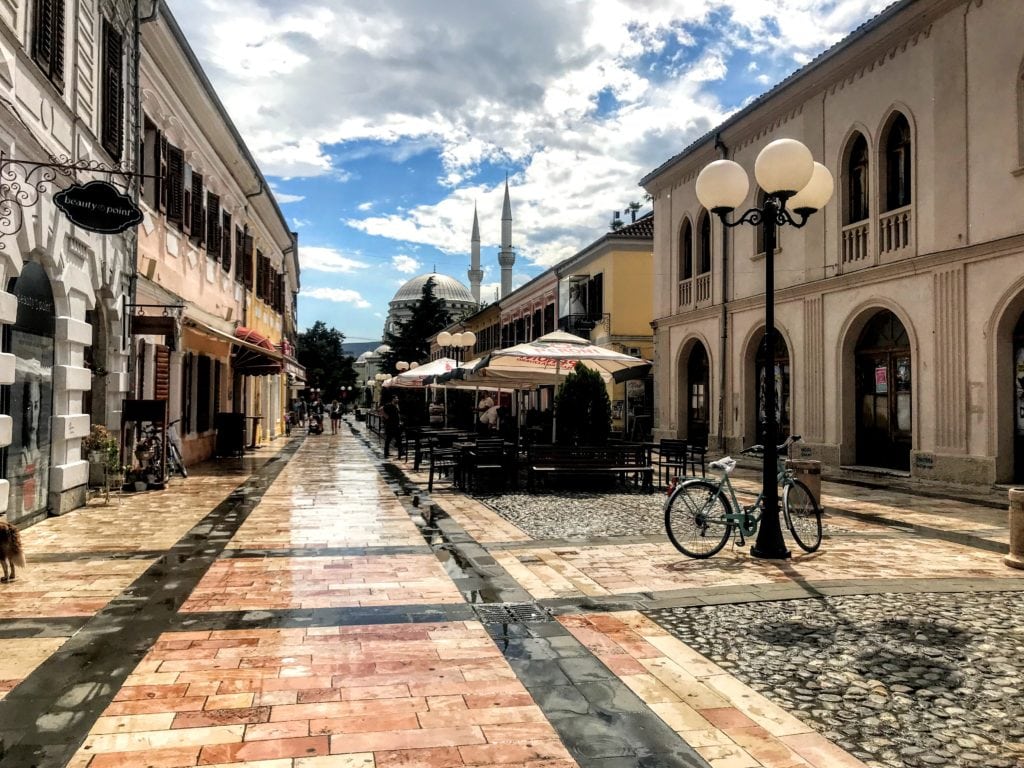 Where to Stay in Shkoder
We stayed at the Open Doors Bed & Breakfast and it was fantastic.
This hostel is everything you need for a comfortable trip, starting with air conditioning! Everyone who worked here was so kind and helpful. Plus, our stay included a lot. We got:
Free home-cooked breakfast (which they even packed up to-go for us when we left early on the last day)
Free bike rentals
Pre-arranged bus pickup to take us to Theth
I honestly couldn't have been a more pleasant time in the brand new and modern hostel and I definitely recommend booking Open Doors Bed & Breakfast for your trip!
Where to Eat in Shkoder
I was surprised about all the great food we had in Shkoder and Albania as a whole. The cuisine definitely exceeded expectations and in Shkoder we had quite a few memorable meals. While you're here, I recommend…
Shega e Eger for lunch.
This hip cafe is great for a quick, cheap, and light meal. It's located just off the main pedestrian road and Daniel and I had two fresh squeezed juices, two paninis, two espressos, and cake for only 1060 lek / 10 usd. That's a pretty amazing deal!
Restaurant Elita for dinner.
Restaurant Elita is one of the best in Shkoder. It's also a little upscale but the price point is fair. We had bread, a steak, and beef cooked in a traditional clay pot along with some wine. All of it was tasty and I definitely recommend a meal here!
B7 Zogaj for lunch.
On our second day in Shkoder, we went to B7 Zogaj. This is located in the tiny town of Zogaj on the southern shore of Shkoder Lake.
We rode our bikes by and stopped for a bite to eat. It has a beautiful view of the lake, the city, and the mountains spread out across the water and the food was good too.
It felt upscale without the price point and we filled up on bread, salad, veggies and rice, fish soup, and two drinks before tackling the ride back to Shkoder.
Hotel Tradita for dinner.
Our final meal in Shkoder and my favorite in the city was at Tradita Geg & Tosk. The restaurant is in Hotel Tradita, which is built into an old home and inn from the 1600s.
We ate in the fresh air in the courtyard while listening to traditional Albanian music and had a great experience.
All the food was delicious and we had traditional bread, fish soup, stuffed potatoes, homemade pasta, two desserts and two bottles of wine for around 4,300 lek / 40 usd.
The Cocktail Academy for drinks.
I'm not a huge cocktail drinker but Daniel and I stopped here to watch a World Cup game in the courtyard and their drinks were great.
Prices start from 400 lek / 4 usd and I definitely recommend trying the espresso martini 'cause it was delicious.
What to Do in Shkoder
By far my favorite thing that we did in Shkoder during our stay was a bike ride around the lake.
There are a few ways you can do it. We got free bikes from our hostel, but you can also do the bike tour with Kiri Adventures. The cost is 9 euros and they provide the bike and a guide. The route they take is the same as the one I took on my own on the south side of the lake.
As you ride, whether with the tour or on your own, the views will get more beautiful.
We passed through the small town of Shiroka and then went all the way to the town of Zogaj. The towns aren't too much to see but the changing landscape and mountain views are the real draws.
Once you get to Zogaj the road ends because you've arrived at the border to Montenegro! From Shkoder to Zogaj and back again (with a long break for lunch) the ride took us about 4.5 hours and had some great photo ops.
After the bike tour and a cold shower at our hostel, we visited the pedestrian street in the Old Town. It's short but nice and has a lot of restaurants, bars, and shops to check out. There's also a large mosque to see as well.
During your stay, you can also visit Rozafa Castle for a view of the town from above, visit the photogenic Mes Bridge, or take the free walking tour every day at 10 am.
The oppressive heat prevented us from doing too much more after our bike tour and the World Cup games took up the rest of our time, but if I return I'll definitely check these out.
Plan Your Trip with the Shkoder, Albania Travel Guide
This Shkoder guide has everything you need to know for a great short stay in the city when you're passing through.
From a comfortable hostel to good eats and everything in between, hopefully these tips will help you make the most of your trip to Shkoder.
Definitely don't miss the bike ride around the lake and a walk through the old town while you're here, and enjoy this unique little piece of Albania.
Ready to go?
Use Skyscanner to find the cheapest flights to Albania and explore accommodation like unique stays on Airbnb or the top-rated hotels on Booking.com to plan the perfect night, weekend, or long-term stay in the city.
Then, join our new Sustainable Hiking Collective on Facebook to connect with the international hiking community, discover new destinations, join virtual trail cleanups, and take part in monthly sustainability challenges.
This article is part of the Alluring Albania series. Read the rest below:
The Complete Guide to Theth and Albania's Accursed Mountains
How to Hike to the Blue Eye of Theth
How to Hike from Theth to Valbona Peak (and Back Again)
Is Tirana Worth Visiting? Thoughts on 24 Hours in the City
11-Day Albania and Macedonia Itinerary You Can Do Without a Car
Then, explore the complete Albania series for more tips on what to see, do, eat, drink, and discover in the country.
Did you know every time you read an article on Slight North, you're also planting trees in the Andes? Start here to learn more about our mission and how to get the most out of the site!