This post contains affiliate links.
At first glance, Belgrade doesn't look too beautiful. However, there's a lot of beauty to be found here if you know where to look.
I lived in the Old Town for five weeks and these are the 9 best Instagram spots in Belgrade that I found during my stay! Check them out, snap a few pics, and appreciate the hidden beauty that's just waiting to be discovered here.
1. Skadarlija Street
The Kafana District in the Old Town is one of the best Instagram spots in Belgrade because it's so picturesque. This place is full of art and music and good vibes.
Back in the day, a famous Serbian poet didn't have the money for his meal so he paid with a poem he wrote instead.
That started a tradition that remains to this day and the walls of the bars and restaurants here feature art, songs, and poems they've accepted from artists over the years.
2. Sunsets in the Old Town
While you're here make it a point to take a walk at sunset every night in Belgrade.
The way the light reflects and and plays on the buildings is beyond beautiful and we were treated to a show almost every night.
The photo below was taken at the on the end of Svetogorska Street (near the intersection with Takovska Street) but if you take your camera out at golden hour anywhere in the Old Town you are sure to snap something nice.
3. The Temple of St. Sava
This is built to be the biggest Orthodox Cathedral in the Balkans and you can see it clear across the city from some places because it's just so dang big.
The interior is still under construction but the outside is finished and has definitely established this church as one of the best Instagram spots in Belgrade.
4. The Crypt of St. Sava
When you're at the church don't forget to head downstairs to the crypt. It's painted floor to ceiling in gold and colorful murals and honestly feels like stepping into another world.
Snapping a pic here will require some patience because there's usually a few people wandering around but if you have the time it's definitely worth waiting for the shot!
5. View from the Avala Tower
Legend has it you can see half of Serbia from the TV tower on a clear day, which surely sets it apart as one of the best Instagram spots in Belgrade.
It's located on Avala Mountain about 25 minutes outside of Belgrade and you can take a taxi or a bus to get there. Once you arrive it costs 300 dinars / 3 usd to take the elevator to the top.
If you can, try to visit at sunset for the best lighting.
6. Avala Mountain
The view from Avala Tower isn't the only thing worth photographing on Avala Mountain.
There's also the imposing Monument to the Unknown Soldier and lots of greenery and walking trails as well.
I shot this picture of the Avala Tower from the Monument of the Unknown Soldier but if you take your time to wander through the area you'll discover nice Instagram pictures around every corner.
7. The Belgrade Fortress
This massive fortress in Belgrade sits where the Old Town meets the rivers.
It has parks, winding walls, towers, a church, cafes and even a club inside it. The Belgrade Fortress is free to visit and if you take the Belgrade free walking tour you'll find yourself here as well.
This photo was taken of the Ruzica Orthodox Church built into one of the outer walls of the fortress. If you visit, take a moment to see the unique chandelier inside that's made out of bullets.
8. Where the Sava and Danube Rivers Meet
Another reason why the Belgrade Fortress is one of the best Instagram spots in Belgrade is because you can also get a view of where the Danube and Sava Rivers meet.
They form an island between them and you can see parks, bridges and New Belgrade spread out below your feet when you snap a pic of the rivers from above.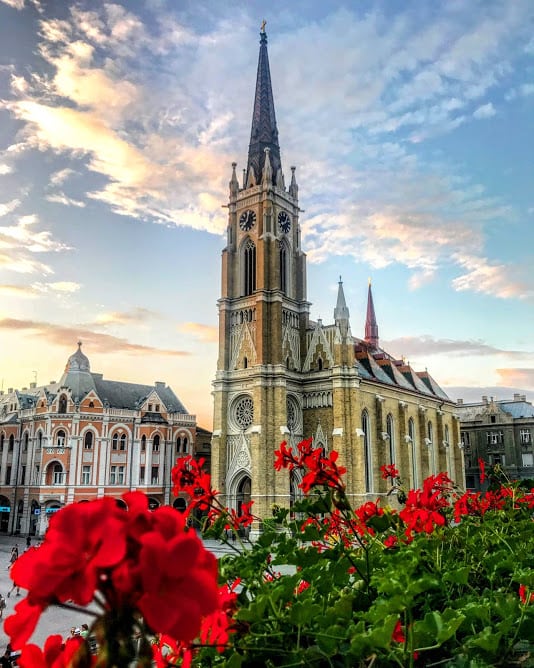 9. Take a Day Trip to Novi Sad
This Instagram spot in Belgrade might not actually be in the city itself but no visit here is complete without a day trip to Novi Sad.
Daniel and I spent a weekend there and because it's only 1.5 hours away by bus I recommend it to any visitors.
It's the second biggest city in Serbia but while Belgrade clocks in with a population of 1.3 million Novi Sad doesn't even break 300k. The city square and main church are definitely Insta-worthy, the cost of living is quite low, and the whole town has a laid back vibe that just moves at a much slower pace than Belgrade.
Click here for all the details on where to stay, how to get there, and more.
Bonus: Where to Stay in Belgrade
There are hundreds of hotels to choose from in Belgrade and two of the top-rated spots have perfect 10 out of 10 review scores on Booking.com. Natalie's Apartment and City Center LUX Apartment have both been rated as exceptional, and even better? Natalie's Apartment will only run you $39 per night!
If you're looking for something a bit more budget-freindly, though, you can also snag dorm beds in Belgrade at Hostel Fair and Square and the City Zen Hostel (with 8.6 and 8.8 ratings respectively) for only $6 per night as well.
Discover the 9 Best Instagram Spots in Belgrade!
This list is sure to take your insta-game in Belgrade to the next level.
With ornate churches, expansive countryside views and interesting city streets this list will help you capture all of the beauty that Belgrade has to offer.
Check it out, pick your favorites, and then comment below to show me your best shots!
Ready to go? Use Skyscanner to find the cheapest flights to Belgrade and then explore accommodation like unique stays on Airbnb or the top-rated hotels on Booking.com to plan the perfect night, weekend, or long-term stay in the city.
This article is part of the Ballin' Belgrade series. Read the rest below:
Essential Resources and Routes for Hiking in Belgrade
How to Visit Novi Sad on a Weekend Trip from Belgrade
5 Best Cheap Belgrade Restaurants
The Complete Guide to Craft Beer in Belgrade
Everything You Need to Know About the Belgrade Beerfest
Then, explore the complete Serbia series for more insider tips on what to see, do, eat, drink, and discover in the country.
Did you know every time you read an article on Slight North, you're also planting trees in the Andes? Start here to learn more about our mission and how to get the most out of the site!