This post contains affiliate links.
Medellin is the City of Eternal Spring, which means that the weather is always perfect for hiking.
When I've had a long week with the other 2.2 million people that live here, sometimes I just need to get away from it all and into nature.
I've lived in the city for six months, so I've found a lot of fun things to do in Medellin.
However hiking in Medellin at the Arenales waterfall, Parque Arvi, and Parque Salado are my three go-to day spots when I'm craving some fresh air and wide open spaces in the city.
Want more of the outdoors? Join our new Sustainable Hiking Collective on Facebook to connect with the international hiking community, discover new destinations, join virtual trail cleanups, and take part in monthly sustainability challenges.
Trekking to the Arenales Waterfall in Medellin
1. How to Get to Arenales Waterfall
This weekend, I really needed to get out of the city and out of my head.
So, Daniel and I decided to try to find the Arenales waterfall on the directions of two very old, poorly written blog posts. We weren't optimistic, BUT it's actually super simple to get to the Arenales waterfall!
All we had to do was go to the Envigado metro station and catch the bus that's waiting at the Arenales sign. The fare is only $0.69, and the drive is about 20 minutes.
Warning: If a giant bus taking hairpin turns on the side of a cliff isn't your idea of a good time, you may want to sit this one out.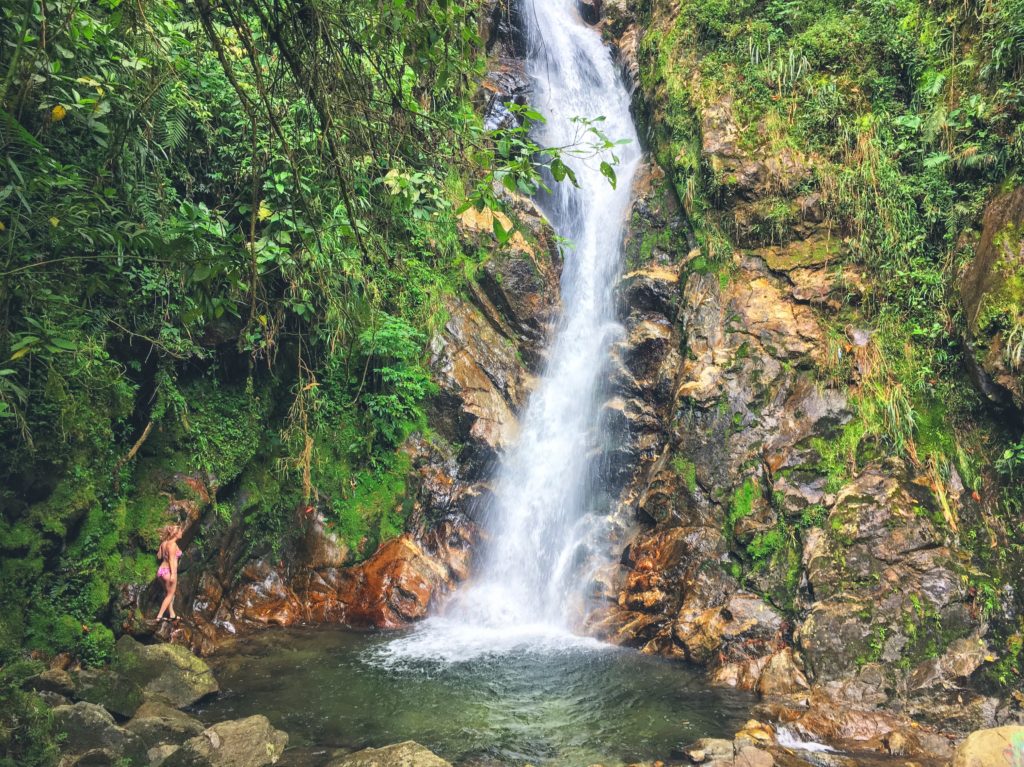 Taking a super cold swim after our hike to the Arenales Waterfall in Medellin
Once we got off the bus at Arenales (it's the last stop), we found ourselves standing at a fork in the road. We took the left road and followed the trail, which luckily turned out to be the correct choice.
Our walk started out lush and green, and we soon began crossing back and forth over a river as we went deeper into the forest. You may lose the trail at times here, so wear sandals and be ready to wade through cold water once or twice.
After hiking for around an hour, Daniel and I reached the Arenales waterfall. It's totally secluded and best of all, has a deep swimming hole. We had the falls to ourselves on a sunny Saturday afternoon… so worth the challenging hike!
After a picnic and some time warming up in the sun, we hiked back the way we came. Then we got some ice cream, enjoyed the view of the city from the park, and finally grabbed the bus to head back home.
All in all we only spent a total of around $6 for the outing.
You can also do this hike backward (aka downhill) starting at Pablo Escobar's infamous prison La Catedral or visit it with this guided waterfall tour through Airbnb.
View from the cable car on our way to go hiking in Parque Arvi
2. How to Get to Parque Arvi
Park Arvi is another phenomenal day trip if you want to get away from the city a bit.
With that said, it's also one of the most popular places for hiking in Medellin, so our day started on a crowded metro ride. Get off at the Acevedo stop and from there it's quite easy to find your way to the cable car.
The aerial views of Medellin during the cable car ride are breathtaking, so the ride is worth it for that alone. At the halfway point, we switched to a new cable car at Santo Domingo (which has an extra charge because it's not part of the metro system) and begin the ride into the park itself.
Hiking in Parque Arvi
Entering Parque Arvi is like a breath of fresh air… literally. First we grabbed a cheap lunch, fresh fruit, and a few local craft beers from the market at the entrance before starting our hike.
At the main stand ask for a map with different trails. I've done a few different hikes here. One was just on the surrounding trails, and another was at Piedras Blancas.
This part of the park is a short 10 minute bus ride from where the cable car lets you off, and you can walk around the lake, rent a rowboat, enjoy the butterfly house, and so much more. It's easy to get here on your own, but you can also go with a group on this guided Parque Arvi tour through Airbnb.
Hiking in Parque Salado Ecologico
3. How to Hike in Parque Salado Ecologico
This small park is perfect for hiking in Medellin, especially if you live in Envigado.
The taxi from our apartment was only $10,000 COP / $3.50 USD, or you can grab one of the many buses heading up into the hills to take you there even cheaper.
The entrance fee to hike in Parque Salado Ecologico is $1 each, and it's totally worth it.
The park has a beautiful river running through it with plenty of rocks around to lay out on and pass the day reading, sun bathing, or taking a snooze. You can even jump in the river if you don't mind reallllyyy cold water.
Finally, there are short (but beautiful) hiking trails up into the mountainside that you can explore.
Daniel and I usually pack a picnic for our hikes in Medellin, but there is also a restaurant in the park to eat at. If you're feeling more adventurous, you can even check out the zipline course running through the canopy of trees.
Hiking in Parque Salado Ecologico
What to pack for your hikes in Medellin
All of these hikes in Medellin are fairly easy and low-key (with the Arenales Waterfall being the most difficult) but it's still good to come prepared. I always pack my fav small day pack with:
A large water bottle
Sunscreen and sunglasses
A light jacket or sweatshirt
Umbrella or rain coat (if you're hiking in the rainy season like we were)
Snacks or a packed lunch
Sturdy hiking boots
Cash for all the buses and taxis
This is some of the hiking gear I can't live without:
Image
Title
Prime
Buy
TimberlanD Women's White LeDge MiD Ankle Boot,Dark Brown,7.5 M US

Prime

Eligible

Buy Now
Vibrant All in ONE Travel Mug - Tea Infuser Bottle with 2 Piece Steeper Strainer MESH Filter - Insulated HOT Coffee Thermos - Cold Fruit Infused Water Leak Proof Double Wall Stainless Steel 16.9 oz

Prime

Eligible

Buy Now
Neutrogena Ultra Sheer Dry-Touch Water Resistant and Non-Greasy Sunscreen Lotion with Broad Spectrum SPF 100+, 3 fl. oz

Prime

Eligible

Buy Now
Osprey Packs Farpoint 55 Travel Backpack, Jasper Red, Small/Medium

Prime

Eligible

Buy Now
Prices and images pulled from the Amazon Product Advertising API on:
Whether you're in town for a week or a year, visiting at the Arenales waterfall, Parque Arvi, and Parque Salado Ecologico are all perfect escapes for a day of hiking in Medellin.
Ready to go?
Explore unique stays on Airbnb – like this cool bamboo glamping – and the top-rated hotels on Booking.com to plan the perfect night, weekend, or long-term stay in Medellin.
Then, check out more food, cultural, and outdoors experiences on Airbnb to round out your itinerary. (Or, book a multi-day Colombia tour to finish your travel planning in on click!)
Finally, don't forget to join our new Sustainable Hiking Collective on Facebook to connect with the international hiking community, discover new destinations, join virtual trail cleanups, and take part in monthly sustainability challenges 🙂
This article is part of the Marvelous Medellin series. Read the rest below:
10 Things to do in Medellin for a Truly Colombia Experience
16 Best Instagram Spots Around Medellin
How to Visit Guatape, Colombia on a Day Trip from Medellin
8 Best Restaurants in Envigado
Where to Drink Craft Beer in Medellin
How to Create Your Own Poblado Bar Crawl
Then, explore the complete Colombia series for more tips on what to see, do, eat, drink, and discover in the country.
Did you know every time you read an article on Slight North, you're also planting trees in the Andes? Start here to learn more about our mission and how to get the most out of the site!