This post contains affiliate links.
There's no doubt that life in Mexico City can be overwhelming. It's one of the biggest cities in the world and is full of traffic and crowds.
I've spent a few months in the city now and during my stay, I was dying for some fresh air and nature. So, I visited these five places to go hiking in Mexico City.
It's possible to reach all five of these routes without a car. Each one also comes with a detailed step-by-step guide that I created after visiting with all the info you need to see them too.
Leave the pollution and noise behind and prepare for a day in nature, 'cause its time to go hiking in Mexico City.
1. Izta-Popo National Park
Where: 1.5 hours from Mexico City by bus
Difficulty: easy to moderate
Click here for a step-by-step guide to hiking in Izta-Popo National Park
This is definitely my favorite place to go hiking in Mexico City. I mean, you'll walk among active volcanos, what's not to love?
This epic park isn't on the typical tourist itinerary in the city but I have no idea why. It's located about an hour away by bus and you can see the second and third tallest mountains in Mexico! Even if you don't want to go far, you can watch Popo Volcano erupt after a few minutes of walking.
Use this guide to learn exactly how we got there, what we spent on the day out, and decide which route you want to trek in Izta-Popo National Park.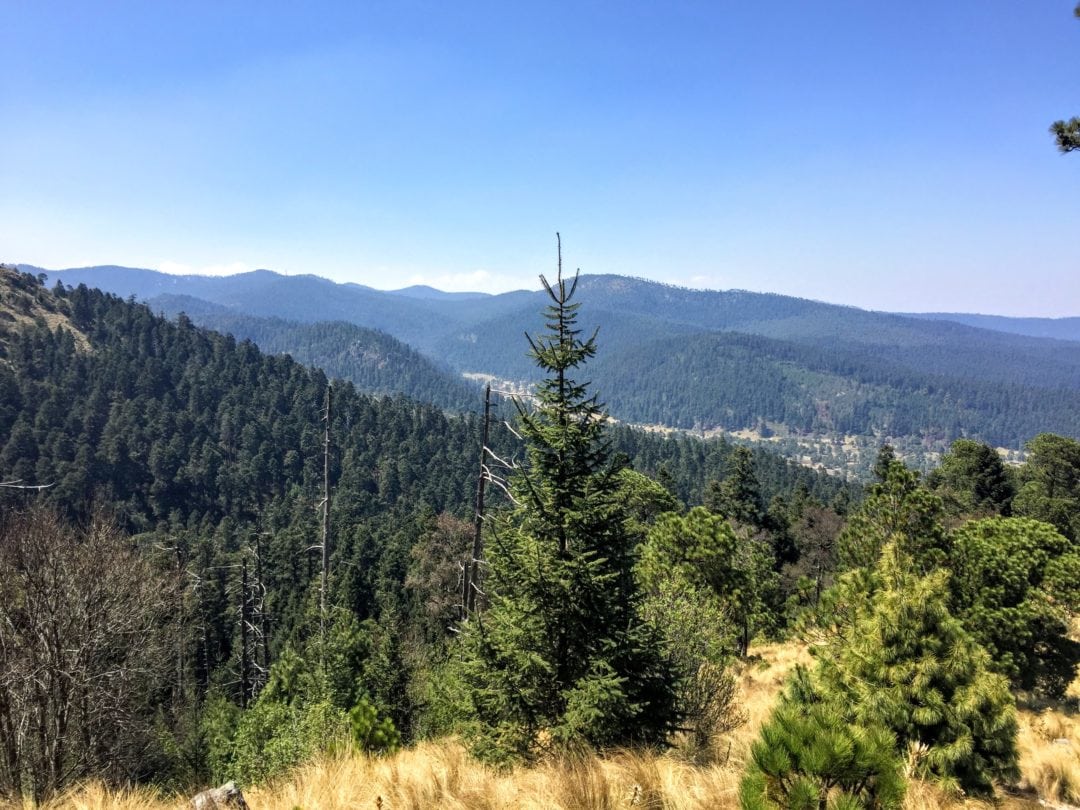 2. Cumbres del Ajusco National Park
Where: ~1 hour from Mexico City by Uber or 2+ hours by bus and taxi
Difficulty: Moderate
Click here for a step-by-step guide to hiking in Culbres del Ajusco National Park
Cumbres del Ajusco National Park actually makes up half of the Mexico City Federal District (CDMX) so it's definitely worth visiting.
The transport is kinda tricky – we used Uber to get there and public transport to get back – so read my full write up for all the details you need to know. The park is about an hour and a half away and a bit more difficult to get to than Izta-Popo. I also don't think it's quite as beautiful as the first, but if you have time to see both I still recommend it.
Cumbres del Ajusco is home to Ajusco Mountain. We attempted to climb it on our visit but got lazy and gave up half-way… still, the views were beautiful along the way.
3. Tepozteco Ruins
Where: 1.5 hours from Mexico City by bus
Difficulty: Moderate
Click here for a step-by-step guide to visiting Tepoztlan and the Tepozteco ruins
Tepoztlan is easy to reach from Mexico City without a car. Busses leave multiple times an hour from Terminal Tazqueno and after a short 1.5 hours ride, we found ourselves breathing fresh air in the small town.
If you want some nature but not a miles-long trek, this is the place for you. Tepoztlan also has a market, a convent, and lots of restaurants, so hiking isn't the only focus here.
Still, the main draw is the Tepozteco Ruins, which sit high on a mountain with a view of the surrounding countryside. It's over an hour of uphill climbing on stone stairs, but the destination is worth it.
If you're ready to check it out, get planning with the Tepoztlan guide!
4. Desierto de Los Leones National Park
Where: 40 minutes from Mexico City by Uber
Difficulty: Easy to moderate, depending on which trail you decide to take
Click here for a step-by-step guide to visiting Desierto de Los Leones
Desierto de Los Leones National Park is the easiest Mexico City hike to reach because it only requires a quick 40-minute / 200 mxn Uber ride to the park.
Once you're there, the Ex Convento Desierto de Los Leones – a 400-year-old abandoned convent – is definitely the star of the show. It's so beautiful and an absolutely fantastic place to take photos and just relax in the serenity of the surrounding gardens.
After you visit the convent, choose a trail and go hiking in the more than 4,000 acres of protected forest that surround you. I climbed Cerro San Miguel, the tallest mountain in the park, but there are plenty of other routes as well.
Use this guide to Desierto de Los Leones to learn exactly how to get there, what to see, where to hike, and more. 
5. Texcotzingo Ruins
Where: 45 minute by bus to the town of Texcoco
Difficulty: Easy
Clic here for a step-by-step guide to visiting Texcoco and the Texcotzingo ruins
This is definitely the easiest hike on the list. The Texcotzingo Ruins are from a palace and baths built high on a hill in the 1400s. They're never crowded and have amazing 360-degree views of the rolling mountains in every direction and even Mexico City in the distance. 
These ruins are in Texcoco in the neaighboring state of Hidalgo (but still only a 45-minute bus ride from Mexico City) and are located right near El Pica 1 which serves up what is arguably the best barbacoa in the country on the weekends – according to the Taco Chronicles on Netflix, that is.
This day trip is similar to Tepoztlan because it's about more than just hike.
Go to Texcoco to eat barbacoa in the morning (yep, it's a breakfast meat) and then walk to the Texcotzingo trail to hike to the ruins, and, if you still have the energy, finish your day at the historic farm and old Mexican town preserved at Parque Nacional Molino de Flores.
Trust me, this indepth Texcoco guide will make it super easy to plan your visit!
By the way, fefore you hit the road for any of these five hiking routes in Mexico, make sure you're prepared with the travel gear below!
Image
Title
Price
Prime
Buy
TimberlanD Women's White LeDge MiD Ankle Boot,Dark Brown,7.5 M US

Prime

eligible

Buy Now
Vibrant All in ONE Travel Mug - Tea Infuser Bottle with 2 Piece Steeper Strainer MESH Filter - Insulated HOT Coffee Thermos - Cold Fruit Infused Water Leak Proof Double Wall Stainless Steel 16.9 oz

Prime

eligible

Buy Now
Neutrogena Ultra Sheer Dry-Touch Water Resistant and Non-Greasy Sunscreen Lotion with Broad Spectrum SPF 100+, 3 fl. oz

Prime

eligible

Buy Now
Osprey Packs Farpoint 55 Travel Backpack, Jasper Red, Small/Medium

Prime

eligible

Buy Now
Prices accurate as of:
Visit These 5 Destinations for Hiking in Mexico City
I was pleasantly surprised but how great the hiking in Mexico City was. In such a massive city I thought I wouldn't see any nature at all, but luckily I was wrong.
I have to say that Izta-Popo National Park truly blows the other four out of the water and should definitely be first on your list, and then if I had to order the rest by personal preference I'd choose Desierto de Los Leones, the Texcotzingo Ruins, the Tepozteco Ruins, and Cerro Ajusco in that order.
But, it really all comes down to personal preference and what you're looking for and it's up to you to decide.
No matter what, though, you really can't go wrong with these five hikes in Mexico City!
Ready to go? Use Skyscanner to find the cheapest flights to Mexico City and then explore accomodation like furnished apartments and unique stays on Airbnb or the top-rated hotels on Booking.com to plan the perfect night, weekend, or long-term stay in the city.
This article is part of the Mexico City Neighborhood, Parks, and Greenery Guide. Read the rest below:
10 Best Things to do in Chapultepec Park + Map and Prices
Coyoacan Guide: 18 Best Things to do in Coyoacan
Polanco Walking Route + 9 Best Things to do in Polanco
5 Unique Places to Stay in Mexico City
Or, explore the complete Mexico Series for 40+ more articles on what to see, do, eat, drink, and discover in the country.
I've been traveling full-time for three years, these are the resources that make it happen:
➤ I exclusively use Airbnb for savings and security on long-term stays in furnished apartments.
➤ I use Booking.com for short-term stays in hostels and hotels on weekend trips.
➤ Skyscanner and the Scott's Cheap Flights newsletter help me find and book cheap flights and mistake fares.
➤ Upwork allowed me to take the leap to travel full-time because they make it so easy to find freelance clients in any field. 
➤ The Superstar Blogging Travel Writing Course launched my travel writing career and helped me become a contributor at sites like Cincinnati Refined and International Living, and even get published in the Boston Globe.
➤ Finally, I love hosting my travel blog on SiteGround because they have helpful and responsive customer service and I love MediaVine and CJ for helping me make a living doing what I love!