This post contains affiliate links.
There's no doubt that life in Mexico City can be overwhelming. It's one of the biggest cities in the world and is full of traffic and crowds.
During my five-week stay, I was dying for some fresh air and nature. So, I visited these three places to go hiking in Mexico City!
It's possible to reach all three of these routes without a car. Each one also comes with a detailed step-by-step guide that I created after visiting with all the info you need to see them too.
Leave the pollution and noise behind and prepare for a day in nature, 'cause its time to go hiking in Mexico City.
Click here to plan your trip with my curated two-week Mexico itinerary!
1. Izta-Popo National Park
Where: 1.5 hours from Mexico City by bus
Difficulty: easy to moderate
Plan your trip with the Izta-Popo Guide
This is definitely my favorite place to go hiking in Mexico City. I mean, you'll walk among active volcanos, what's not to love?
This epic park isn't on the typical tourist itinerary in the city but I have no idea why. It's located about an hour away by bus and you can see the second and third tallest mountains in Mexico! Even if you don't want to go far, you can watch Popo Volcano erupt after a few minutes of walking.
Use this guide to learn exactly how we got there, what we spent on the day out, and decide which route you want to trek in Izta-Popo National Park.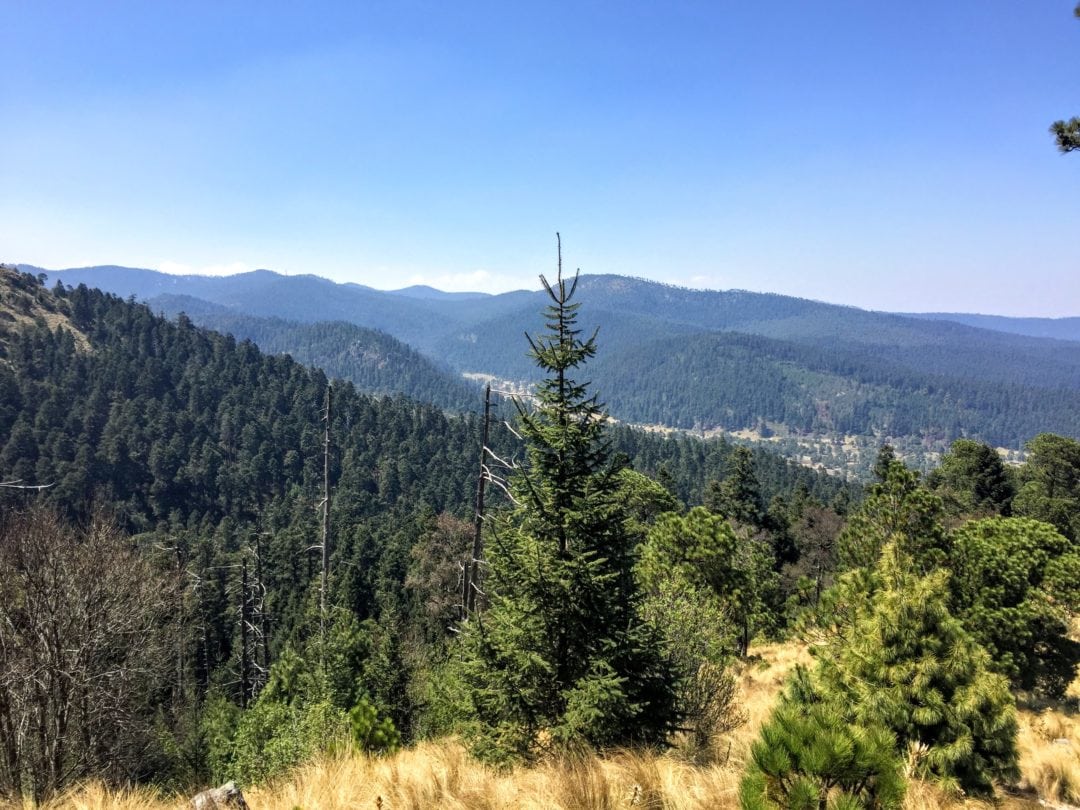 2. Cumbres del Ajusco National Park
Where: ~1 hour from Mexico City by Uber or 2+ hours by bus and taxi
Difficulty: Moderate
Plan your trip with the Cumbres del Ajusco Guide
Cumbres del Ajusco National Park actually makes up half of the Mexico City Federal District (CDMX) so it's definitely worth visiting.
The transport is kinda tricky – we used Uber to get there and public transport to get back – so read my full write up for all the details you need to know. The park is about an hour and a half away and a bit more difficult to get to than Izta-Popo. I also don't think it's quite as beautiful as the first, but if you have time to see both I still recommend it.
Cumbres del Ajusco is home to Ajusco Mountain. We attempted to climb it on our visit but got lazy and gave up half-way… still, the views were beautiful along the way.
3. Tepozteco Ruins
Where: 1.5 hours from Mexico City by bus
Difficulty: Moderate
Plan your trip with the Tepoztlan Guide
Tepoztlan is easy to reach from Mexico City without a car. Busses leave multiple times an hour from Terminal Tazqueno and after a short 1.5 hours ride, we found ourselves breathing fresh air in the small town.
If you want some nature but not a miles-long trek, this is the place for you. Tepoztlan also has a market, a convent, and lots of restaurants, so hiking isn't the only focus here.
Still, the main draw is the Tepozteco Ruins, which sit high on a mountain with a view of the surrounding countryside. It's over an hour of uphill climbing on stone stairs, but the destination is worth it.
If you're ready to check it out, get planning with the Tepoztlan guide!
Before you hit the road for any of these hiking routes in Mexico, make sure you're prepared with the travel gear below!
| Image | Title | Price | Prime | Buy |
| --- | --- | --- | --- | --- |
| | Timberland Women's Flume Mid Waterproof,Brown Waterproof Leather,US 10 M | | | Buy Now |
| | Vibrant All in ONE Travel Mug - Tea Infuser Bottle with 2 Piece Steeper Strainer MESH Filter - Insulated HOT Coffee Thermos - Cold Fruit Infused Water Leak Proof Double Wall Stainless Steel 16.9 oz | | | Buy Now |
| | Osprey Packs Farpoint 55 Travel Backpack, Volcanic Grey, Medium/Large | | | Buy Now |
| | Neutrogena Ultra Sheer Dry-Touch Water Resistant and Non-Greasy Sunscreen Lotion with Broad Spectrum SPF 100+, 3 fl. oz | | | Buy Now |
Prices accurate as of:
Visit These 3 Destinations for Hiking in Mexico City
I was pleasantly surprised but how great the hiking in Mexico City was. In such a massive city I thought I wouldn't see any nature at all, but luckily I was wrong.
I have to say that Izta-Popo National Park truly blows the other two out of the water and should definitely be first on your list, but as for the other two, it's up to you to decide. No matter what, though, you really can't go wrong with these three destinations in Mexico City.
This is part five in an eight-part Mexico City series. Read the rest below!
9 Evening Activities in Mexico City [Part 1]
8 Things to Do in Chapultepec Park [Part 2]
The Complete Guide to Craft Beer in Mexico City [Part 3]
The Colorful and Crazy World of Lucha Libre in Mexico City [Part 4]
3 Easy to Reach Places for Hiking in Mexico City [Part 5 – you are here]
How to Take a Day Trip to Tepoztlan from Mexico City [Part 6 – read me next]
Weekend Trip: The Complete Guide to Taxco, Mexico [Part 7]