This post contains affiliate links.
The Dayton Pizza Wars are behind us, four iconic restaurants remain.
But, which Dayton style pizza place is the best in the city?
We conducted a very-unscientific-but-thoroughly-delicious blind taste test between Marion's, Cassano's, Ron's, and Joe's to find out!
Picking up a pizza from Ron's in Miamisburg for our Dayton style pizza showdown
What is Dayton Style Pizza?
Pizza must have two essential characteristics to earn the right to bear our city's name. First, Dayton style pizza always has a thin, flat crust and second, it's cut into small square slices instead of the typical pie shape.
Most Daytonians can attest that the tiny size of the slices makes eating "just one more" impossible to stop until an empty box is all that remains.
The biggest Dayton style pizza chain is Donatos, and it isn't from Dayton at all.
The company was founded by an OSU student in Columbus 10 years after Vic Cassano started doin' his thing down here in the Gem City. Donatos has now expanded into more than 10 states so people sometimes mistakenly refer to pizzas with thin crust and a square cut as simply Ohio-style pizza.
But just like the slogan on NC license plates, they're dead wrong.
For Dayton expats living out of state, Donatos will do in a pinch, but when in town it's never the first choice. That honor is usually reserved for the big three – Cassano's, Marion's, and Ron's – who earned that right when they battled it out in the great Dayton Pizza Wars.
Joe's Pizzeria on Airway Rd.
The Dayton Pizza Wars
Long before the Dayton Peace Accords, there were the Dayton Pizza Wars.
It all started in 1953.
Vic Cassano opened his first pizza shop in Kettering and was wildly successful. He began franchising soon after, and two familiar names entered the doughy fray: Ron Holp and Marion Glass.
Ron bought a Cassano's franchise and operated it for a few years until he decided he wanted to go off on his own.
He asked his wife to create a dough recipe as similar to Cassano's as possible and then opened the first Ron's Pizza in 1964 to serve it – while he still operated his Cassano's franchise!
Obviously, this wasn't gonna fly.
Vic sued Ron because he believed Ron had stolen the Cassano's recipe and they battled it out in court in what the Dayton Daily News dubbed the "Dayton Pizza Wars." Ron won the lawsuit and Ron's Pizza is still operating today in Miamisburg.
Marion Glass soon followed in Ron's footsteps, selling his Cassano's franchise and opening the first Marion's Pizza in 1965 using the same dough recipe that Ron's wife created.
So, Cassano's is clearly the OG but Ron's and Marion's have grown into their own beloved institutions as well. But where does Joe's – our fourth contender in the blind taste test – come into all of this?
Joe's opened its doors in the 1950s (making it older than Marion's and Ron's but younger than Cassano's) and has always coexisted peacefully with the other big three, which is why the shop still remains somewhat of a hidden gem in Dayton.
In fact, I had never even heard of Joe's until my dad insisted we include it in the mix, but now I'm so glad we did.
And now that you've got a bit of history, let the taste test commence!
Conducting the first round of our blind taste test with 4 out of the 5 participants
Blind Taste Test
I won't lie, there were some minor snafus in the making of this taste test.
Because Marion's and Joe's don't deliver we decided to even the playing field and dispatch four teams to pick up the four pizzas. We called ahead to set a 5:30 pm pick up time for each, to ensure that each pizza was the same age when we dug into it.
Then, I got home with Ron's (a 25-minute drive from Beavercreek) and found my mom had completely disregarded the plan and put the other three waiting pizzas into the oven to keep warm.
Ron's was a bit colder than the rest and the other three weren't 100% fresh when we chowed down but dammit we tried our best. Still, I had one participant do their blind taste test with all cold pizza to make sure Ron's got a fair chance, and his rankings matched the rest.
With all this in mind, here are the results of our blind Dayton style pizza taste test between Ron's, Marion's Cassano's and Joe's.
Marion's Pizza
The Stats
Let's start with the essential info you need to know about our taste test.
The Participants: Various siblings and spouses (5)
The Restaurants: Marion's, Ron's, Joe's, Cassano's (4)
The Pizza Style: Half pepperoni half cheese. Four participants chose to taste test the pepperoni while one opted for the cheese. None of her rankings were significantly different than the meat eaters.
Cassano's Pizza
The Trial
After eating a piece of all four pizzas, I asked each participant to rank them from one to four, with one being the best and four being the worst.
Then, I added up the rankings from all five participants. The pizza place with the lowest score wins while the place with the highest score will come in last.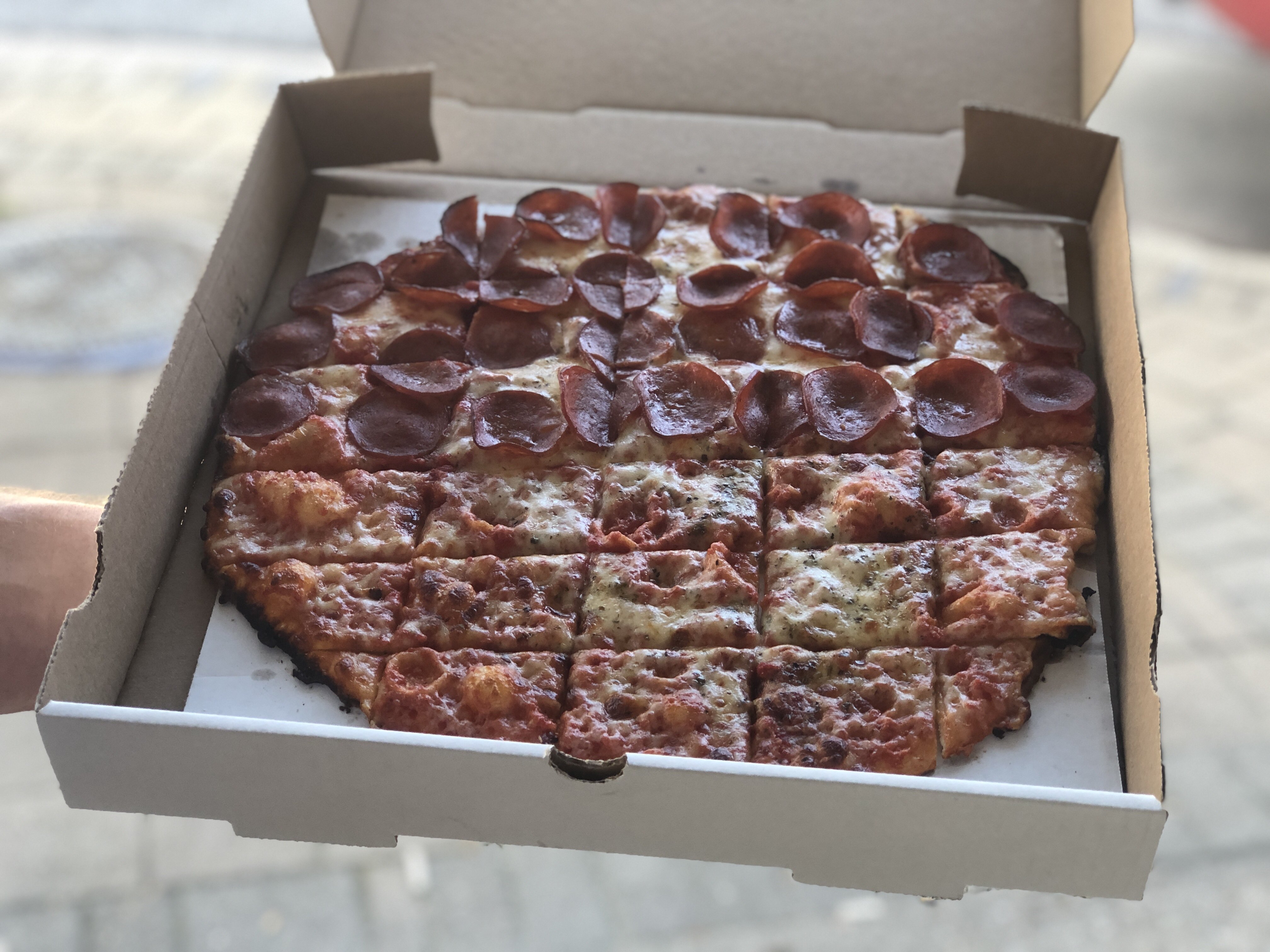 Ron's Pizza
The Results
Ron's (One South Main St, Miamisburg) got two third-place ratings and three fourth-place ratings, for a total score of 18
Marion's got one first-place ranking, three third-place rankings, and one fourth-place ranking for a total score of 14
Cassano's got one fourth-place ranking, three second-place ratings, and one first-place rating for a total score of 11
Joe's (4313 Airway Rd, Dayton) got three first-place rankings and two second-place rankings for a total score of 7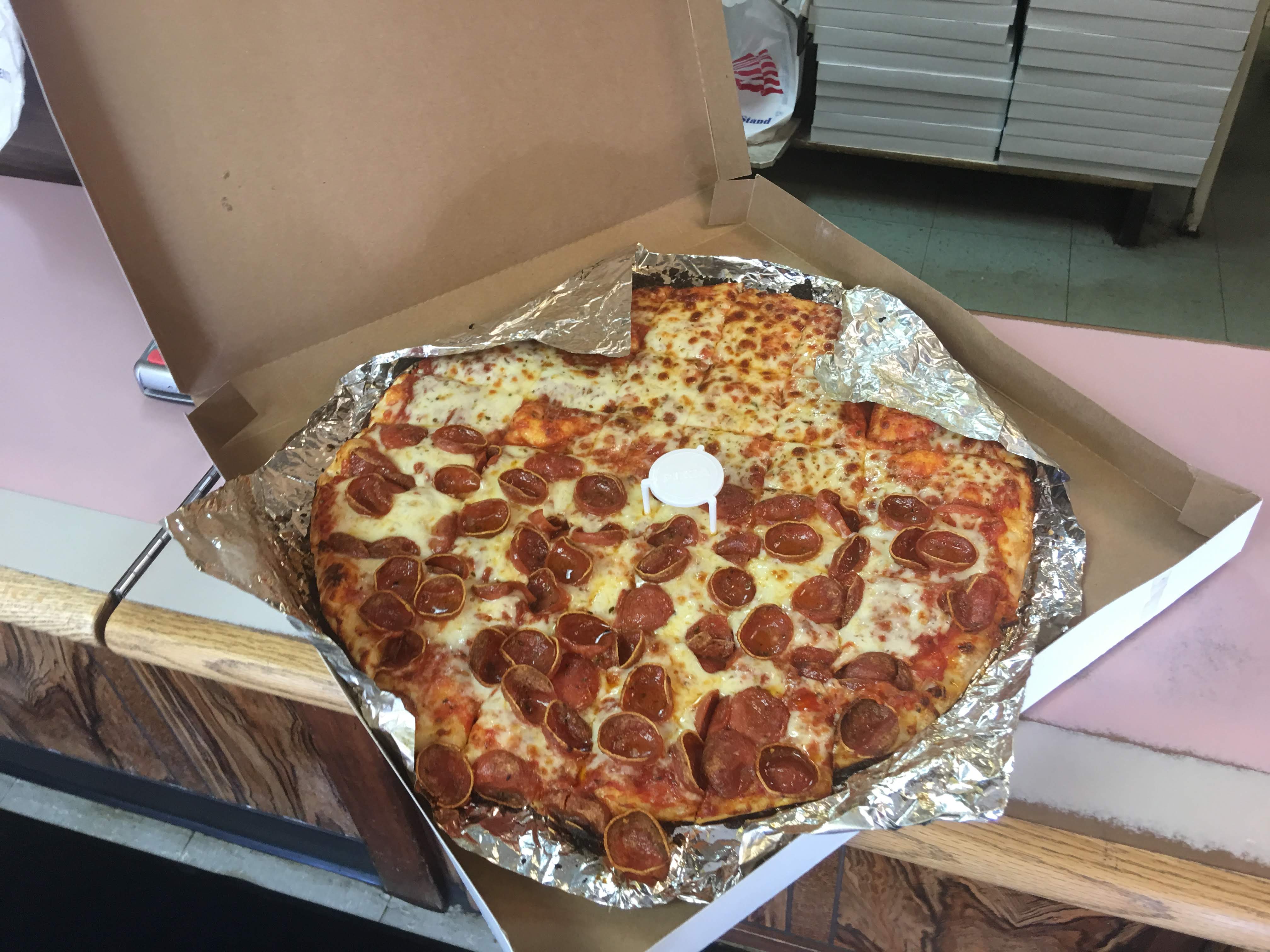 Joe's Pizza – the winner of our Dayton style blind taste test!
And the Best Dayton Style Pizza Is…
Joe's!
Participants agreed that Joe's had both the best sauce and the best pepperoni, which cooked into tiny cup shapes to store extra grease and flavor.
(I don't think it's a coincidence that our rankings of best to worst pizzas also matched up with the greasiest to least greasy pizza boxes.) Joe's also had the thickest crust.
Cassano's coming in second was another surprise because I always thought I preferred Marion's. Turns out, when I eat them side by side, Marion's just can't compete with Cassano's salty crust and the participants in the blind taste test agree with me.
Marion's is still a solid option when eating out with a group though because there's just something about sitting next to a fake window with a mug of root beer that Cassano's can't provide.
Finally, we have Ron's. The pepperoni wasn't crispy (and was almost a bit ham-like) and the cheese and crust were both just a bit bland. Standing alone, I'm sure Ron's pizza is fine, but next to these other three powerhouses it just couldn't compete.
So, the definitive answer is finally here: Joe's serves up the best Dayton style pizza in the city.
Next time you get a craving for Dayton style pizza (or want to introduce visiting family and friends to this Gem City original) make sure you order up Joe's for the best experience!
This article is part of the Delicious Dayton series. Read the rest below:
How to DIY Your Own Dayton Brewery Walking Tour
Did you know there's an Ohio Donut Trail right here in Dayton?
How Small Christmas Transformed Our Holiday Season
Did you know every time you read an article on Slight North, you're also planting trees in the Andes? Start here to learn more about our mission and how to get the most out of the site!