This post contains affiliate links.
2018 was a fantastic year here at Slight North.
While 2017 was full of growing pains and mistakes as we adjusted to our new location independent lifestyle, 2018 has been much easier – and better – in every way.
This article is simply a celebration of where we've been, where we're going, and the milestones we've hit along the way!
Rooftop pools in Playa del Carmen
January 2018 – Playa del Carmen, Mexico
In Playa del Carmen we took a boat cruise, swam with turtles, and spent weekends in Tulum and Laguna Bacalar.
We also volunteered at a dog shelter for the first time abroad and finally sampled true Mexican cuisine… saying it's delicious would be an understatement. Read the Mexico Series here!
Biblioteca Vasconcelos in Mexico City
February 2018 – Mexico City, Mexico
In February we moved to Mexico City and I was surprised to find that I liked it even more than the coast.
We celebrated Carnival at Tepoztlan, stepped into the future at this insane library, hiked with active volcanos at Izta-Popo National Park, experienced our first earthquake, and tracked down and tried every single brewery in the city. Read the Mexico Series here!
Old Salmon River hike in Portland, Oregon
March 2018 – Dayton, Ohio, and Portland, Oregon
In March Daniel and I flew home for a friend's wedding. It was the shortest stint we've ever done abroad, but I found it was nice to see everyone again so soon.
I also spent a week in Portland visiting my sister, who was working on the set of American Vandal.
Don't worry, I managed to play it cool when I met the cast and crew at the wrap party. Still, my favorite day was spent hiking in what's low key the greenest and most beautiful park I've ever seen in the US – Mt. Hood National Forest. Read the US Series here!
The idyllic Transylvanian town of Sibiu
April 2018 – Sibiu, Romania
April was the launch of our tour through Eastern Europe, starting in Sibiu.
Here we again tried every brewery in the city ('cause there was only one), met some new friends, enjoyed the fastest internet of our trip, and visited lots of Transylvanian castles. Daniel also got pick-pocketed (generally an annual occurrence) in Bucharest. Read the Romania Series here!
Ancient ruins in Sofia, Bulgaria
May / June 2018 – Sofia, Bulgaria
Seven weeks in Sofia was awesome.
We presented Slight North at a blogger's meet up, hiked at Vitosha Mountain and the Rila Lakes, and watched way too much of the World Cup when my brother came to visit.
Then, we spent Memorial Day Weekend on the Black Sea, went to the cliffside town of Veliko Tarnovo, and visited Plovdiv, one of the oldest cities in the world and the European Capital of Culture in 2019. Read the Bulgaria Series here!
A memorable sunset in Theth National Park
July 2018 – Albania and Macedonia
One of the best parts of 2018 was having our sh*t together enough to take an actual vacation. We celebrated the 4th of July on Lake Ohrid in Macedonia and went hiking in the Accursed Mountains in Albania.
We also spent time in the lakeside city of Shkoder and of course the capitals of Skopje and Tirana.
I learned that Albanian people are super welcoming and their food is amazing – the country is my second favorite from 2018, beat out only by Mexico. Read the Macedonia Series and the Albania Series here!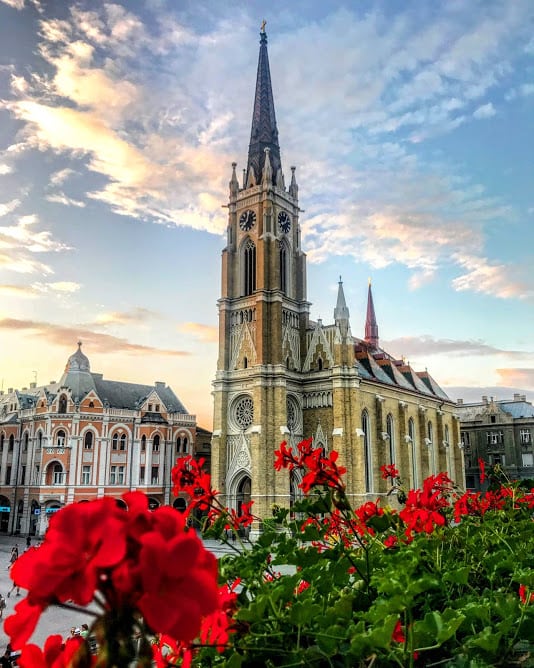 The central square in Novi Sad, Serbia
August 2018 – Belgrade, Serbia
I also learned that if you want to experience the Midwest in Europe, Serbia is the place to go.
We spent a scorching summer here but still found the energy to take a weekend trip to Novi Sad, go to the biggest festival in Southeast Europe, marvel at a golden crypt, and honestly… I don't really know what else. It was too hot to remember. Read the Serbia Series here!
Plitvica Lakes National Park in central Croatia
September 2018 – Zagreb, Croatia
In September we booked our first – and last – stay in the suburbs of a city, which I don't recommend if you don't have a car.
Zagreb was an interesting place and we hit the nightlife with some college friends when they visited, hiked at the Plitvice Lakes, ate cream cake in Samobor, and spent a long weekend on the coast at Zadar.
Riding our bikes to a rocky island beach and drinking wine in the water was definitely a highlight. Read the Croatia Series here!
The Hungarian Parliament Building, undoubtedly the top sight in Budapest.
October 2018 – Budapest, Hungary
Our last stop on our Eastern Europe tour was also our favorite. Budapest had everything – hiking, food, nightlife, gorgeous architecture, and a low cost of living.
We slowed down, celebrated a hazy birthday weekend, and spent every day talking about how much we love fall weather. Read the Hungary Series here!
Enjoying a windy rooftop in my old college town of Boston
November 2018 – Boston, New Hampshire, Kentucky, and Detroit
In November we flew home for my brother's wedding in New England.
I saw tons of college friends, tried my best not to ruin the bridesmaid photos, and narrowly avoided a disastrous technical malfunction as the DJ. Daniel and I also celebrated our 2-year anniversary in Kentucky and spoiled my new nephew in Detroit. Read the US Series here!
December 2018 – Home for the Holidays in Dayton, Ohio
Now, it's nice to recover from a whirlwind year at home in Dayton, Ohio.
Daniel's fam lives here too so we've had lots of quality time with all of our parents and siblings. The last weeks of this year will be full of parties, presents, food, and family – much needed after spending ten months of it alone on the road!
Exciting Milestones in 2018
It's been so crazy to see Slight North grow from a few embarrassing blog posts to the beautiful beast she is today.
In 2018 our traffic grew by more than 300% and we're closing out the year with 60k visitors and 114k page views. We also made our first few (emphasis on few) dollars from affiliate marketing and I landed two sponsored collabs with jewelry and travel brands.
This year three of my articles were chosen for the Lonely Planet Pathfinders monthly roundup, we were named a Top 100 Travel Blog to Follow in 2018, and I was profiled on the Penny Hoarder.
We also put our first digital product up for sale, created an ebook, and made our first real connections in the blogging community.
Finally, I'm pretty excited to announce that one of my pitches was picked up and I'll be writing a recurring travel series on Cincinnati Refined in the new year!
What's Next in 2019?
On January 5th Daniel and I are flying to Istanbul for two months.
It's been a dream destination for both of us for years. We tried to visit quite a few times when we taught in the nearby UAE but the trip just never panned out.
I love the food and colors and music of Middle Eastern and Arab culture, so I'm super excited to travel in that part of the world again after three years away.
Afterward, we're going to Ukraine for March through May. We'll spend the first five weeks in Lviv, a city of about 700,000 people near the border to Poland. Then we'll round out our trip with six more weeks in the capital city of Kiev.
Thanks for being part of our year!
If you guys didn't keep visiting our site and reading my typo-ridden articles, none of this would be possible. So thanks for your support and your comments and your emails because I read and appreciate every single one.
I hope your year was just as great as mine and you have even more adventures in 2019!
This article is part of the Dan and Di Series. Read the rest below:
Lost Creek Memory Barn Wedding Album
13 Desert Engagement Photos from Abu Dhabi, UAE
Did you know every time you read an article on Slight North, you're also planting trees in the Andes? Start here to learn more about our mission and how to get the most out of the site!