This post contains affiliate links.
There is more to do in Cloudcroft, New Mexico, than you might expect. 
This tiny mountain town is almost 9,000 feet above sea level (or above stress level as the locals like to say) and that makes it a cool escape in the hot summer months for Texas and New Mexico locals. 
The weather is much more mild at high altitude and Cloudcroft usually has temperatures around 15 to 20 degrees lower than nearby Las Cruces, where we live. 
So, Cloudcroft began as a timber-mining town and soon became a tourist destination for this reason – now, it features cabins, skiing, shops, restaurants, bars, and even a brewery and winery. Nestled into the sprawling Lincoln National Forest it's also surrounded by trees and trails on all sides – a sight for sore eyes for us desert folk craving some greenery every now and then. 
Dan and I went on a lazy Sunday excursion (it's about 1.5 hours from Las Cruces and 3.5 from Albuquerque) and had a blast. Now, my guide covering what to eat, drink, and do in Cloudcroft, New Mexico will help you do the same!
Lincoln Tunnel Vista – the last desert view before you enter the greenery of Lincoln National Forest
1. Essential stops on your way to Cloudcroft, New Mexico
You'll come across some of the best things to do in Cloudcroft before you even arrive.
We drove to Cloudcroft from Las Cruces but if you're coming from Albuquerque in the opposite direction, I still recommend driving through town to these four stops.
On your way in from Las Cruces make sure to spend a couple minutes at:
You'll pass them all within about 15 minutes of each other on your way into Cloudcroft so it's a great way to start slowing down and start your day off right.
Shops and restaurants on Burro Avenue
2. Where to shop in Cloudcroft
Cloudcroft is super tiny. The town has a year-round population of 674 people and the center reflects that. You won't find McDonalds and Target here but you will find a ton of super-cute mom n' pop shops to support. 
Burro Avenue is the main shopping strip with a few more places to browse along the James Canyon Highway that runs parallel to it. On Burro Avenue you'll find cafes, bakeries, turquoise jewelry, an outdoor outfitter, a thrift store, ice cream parlor, winery, and more. Pop in and out of whatever catches your eye and have some cash on hand for an impulse buy.
View of Lincoln National Forest from Devil's Elbow Overlook
3. Where to hike in Cloudcroft
Cloudcroft is located in Lincoln National Forest, which covers more than one million acres in southeast New Mexico.
It was established in 1902 and, like most national forests, is mainly used for timber and logging. But, it still has plenty of protected wilderness areas and miles of trails to explore.
The cool thing about Cloudcroft is that you can start hiking multiple trails right from the city center – which is what Dan and I did – or find even more by driving only five minutes away.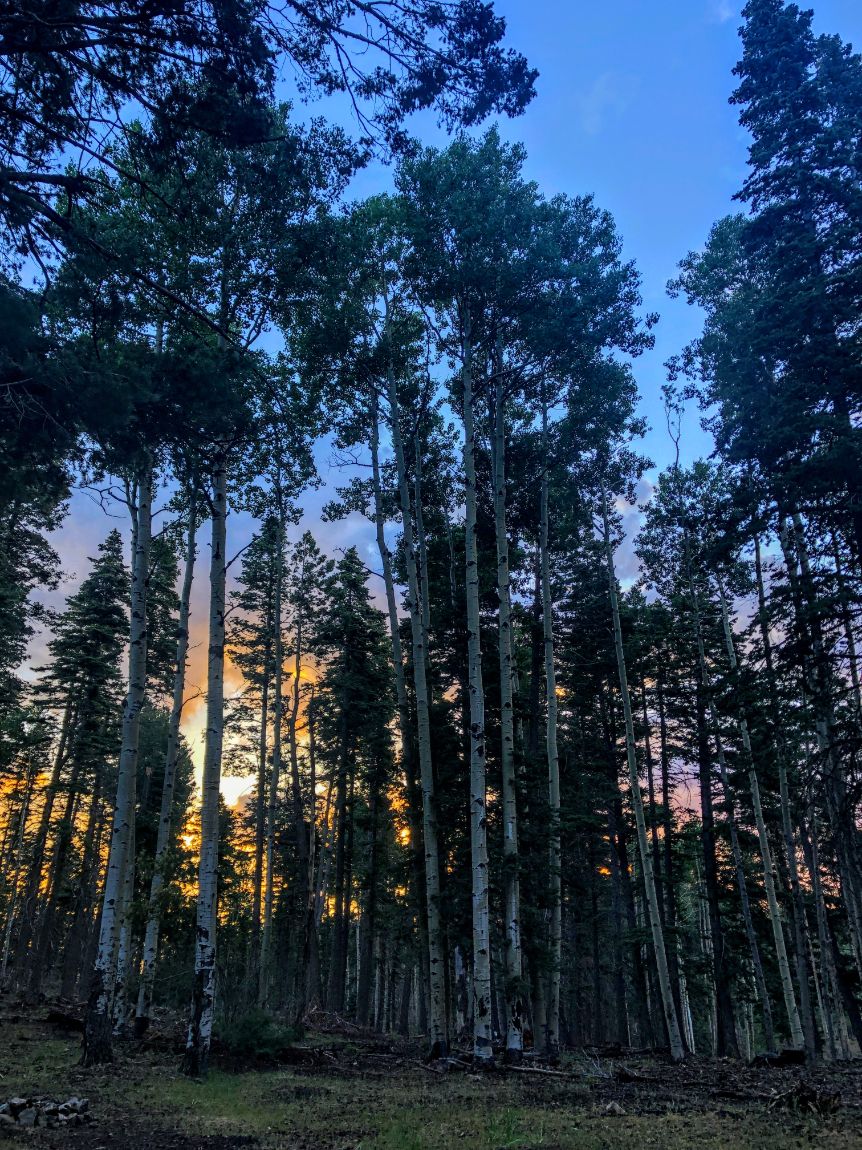 Sunrise at one of our many lovely campsite in Lincoln National Forest
Some of the most popular trails in Cloudcroft are in the Trestle Recreation Area (across from Burro Avenue) which has multiple loops with different lengths and views. The Osha Trail was also widely recommended to me and I was intrigued by Bridal Veils Falls trail as well. Someday Dan and I want to come back for the 30-mile Rim Trail – maybe when we're in a little better shape. 
If you're not sure what you want to do, stop in High Altitude – the local outdoor shop on Burro Avenue – for a hiking guide and some local recommendations.
We ended up in the Trestle Recreation Area where a short hike will take you to views of the Mexican Canyon Trestle and the Devil's Elbow Overlook among other nice secluded forest spots. I recommend shopping in Cloudcroft first and then going on a hike to work up an appetite for the best BBQ in New Mexico…
Brisket and mac n' cheese sandwich (with more mac and potato salad on the side) from Mad Jack's Mountain Top Barbecue
4. Best Restaurants in Cloudcroft, New Mexico
My first impression of Cloudcroft was that there was some type of festival or event going on because there was such a long line of people winding out of Mad Jack's Mountain Top Barbecue restaurant when we first arrived. 
But, nope. That's how it is pretty much every weekend at this cornerstone establishment. 
Mad Jack's has a shocking 4.9 out of 5 rating on Google even with almost 1,000 reviews to date. I asked a local at the Noisy Water Winery if it was overrated or really worth the wait and she told me in no uncertain terms that it's amazing and I'd be a fool to miss it. 
 Mad Jack's Barbecue on a Saturday afternoon
Mad Jack's opens at 11 am and closes 'when they run out' (usually around 3 pm) so we took a risk and went around 2 pm. The lines were way shorter and the only thing they were out of was turkey, so it paid off. 
And wow. I had a brisket and mac n' cheese sandwich on a sourdough bun and it blew me away.
The BBQ is possibly the best I've ever had and Mad Jack is mad personable. He'll probably chat you up while chopping up steaming hunks of tender brisket and the sight of that mouthwatering meat alone will be enough to convince you to come back again, let alone the taste. 
Go early on a Thursday or Friday to avoid the worst of the lines or take a risk going later on Saturday and Sunday (they're closed Mon – Wed) and trade the wait time for the chance that they may be out of what you want. But between the ribs, brisket, and pulled pork, they will surely have something delicious available for you.
If Mad Jack's is closed or the lines are too long, other backup suggestions for food in Cloudcroft from the locals were the brick-oven pizza at the Cloudcroft Brewery (more on that below) and Big Daddy's Diner. Between the three restaurants, I know you'll leave Cloudcroft satisfied. 
Noisy Water Winery
5. What to drink in Cloudcroft
Did you know this tiny mountain town is home to their own winery and brewery? 
The Noisy Water Winery is easy to find on Burro Avenue, the main strip of shops and restaurants in town. Originally from nearby Ruidoso, they have a few locations in New Mexico and cozy Cloudcroft is one of them.
Inside you'll find a friendly and modern wine and cheese bar with lots of bottles to sample. The wine tasting with three different types costs only $5 per person and comes with a complimentary sample of their famous green chile wine as well! 
Cloudcroft Brewery
If beer is more your thing, head up the street to Cloudcroft Brewery. The brewery serves up brick-oven pizza and house-brewed beers in a light and airy restaurant and beer garden out back. 
As a craft beer lover I thought the brewery had a bit more of a corporate-business-opportunity feel than a bootstrapped-for-the-love-of-beer type vibe but the brews were fine and the aesthetic was nice. The spicy stout was my favorite of the two I tried.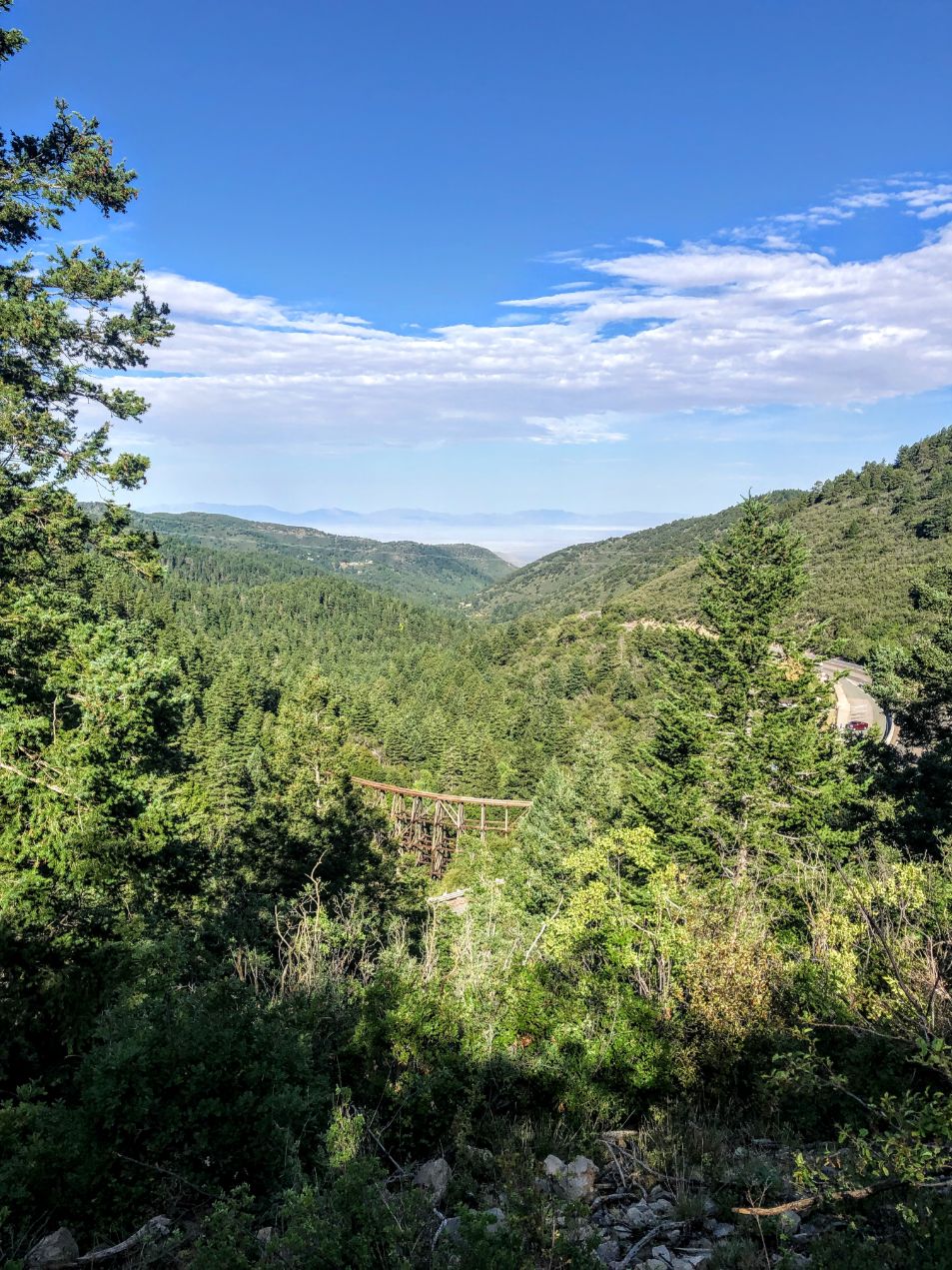 Mexican Canyon Railroad Trestle, one of the classic Cloudcroft views you can't miss on your way into town
6. Where to Stay in Cloudcroft, New Mexico
Dan and I only went for a day trip but we're already planning to go back for a weekend in the winter when we can ski. If you have the time and budget, slowing down for a full weekend here would be amazing.
The best part about staying in Cloudcroft is that the town is so small that you can be in walking distance of the shops and restaurants while staying in cabins that feel totally secluded and surrounded by nature.
There are plenty of Airbnbs in Cloudcroft to choose from – like this gorgeous 11-bed home with a view and these colorful forest houses – as well as a grand total of four hotels in town including The Lodge at Cloudcroft and the Dusty Boots Motel. 
Cloudcroft is a pretty popular tourist destination so browse Airbnb and you might be surprised by the wide range of accommodation and prices that you find in this tiny town. 
Getting our fall fix in Lincoln National Forest
7. Seasonal Activities in Cloudcroft, New Mexico
Because Cloudcroft is at such a high altitude it enjoys more seasonal changes than its desert counterparts in Albuquerque and Las Cruces. 
If you're craving colorful leaves and a chilly breeze in the fall or a warm fire while the snow falls in the winter, Cloudcroft can meet your needs. Check out the Cloudcroft Harvest Fest in October, the Christmas Market in December, or the skiing and tubing at Ski Cloudcroft all winter long.
Ready to go?
Explore unique Airbnbs in Cloudcroft – like these gorgeous forest houses, this cozy cabin, or this modern home with a view – and the top hotels on Booking.com to plan your trip to this pretty mountain town. Then, check out more food, culture, and outdoors experiences in New Mexico to plan the rest of your trip!
This article is part of the Lovely Las Cruces series. Read the rest below:
Where to go hiking in Las Cruces, New Mexico
The complete guide to craft beer in Las Cruces
10 common desert plants and animals in the Chihuahuan Desert
Like it? Pin it!
Did you know every time you read an article on Slight North, you're also planting trees for the monarchs in Mexico? Start here to learn more about our mission and how to get the most out of the site!